How and why to include DEI and ESG into your event strategy, including sustainable gift ideas.
In-person and hybrid events are returning to pre-pandemic levels in 2023. But with this increase,  spending on corporate events is expected to rise by as much as 83% as costs increase significantly in the event sector. While businesses navigate the challenges of event budget management, other challenges include incorporating ESG (Environmental, Social & Governance) and DEI (Diversity, Equity and Inclusion) goals into their events, which have traditionally been contributors of environmental waste that may not spotlight stories and speakers of diverse backgrounds.
From cheaply made corporate gifts and swag to single-use paper items like agendas and signs, research suggests that the events industry produces 1.2 billion kg of CO2e per year, leaving a significant mark on the planet. Putting on in-person events, a key marketing and engagement strategy, while staying true to your sustainability and DEI values at a budget is imperative in 2023. At Packed with Purpose we have already seen a jump in corporate event gifts and clients seeking sustainable gift ideas. The challenge is key – create a sustainable and inclusive space for your in-person events in 2023 without affecting the bottom line.
To help you meet these goals, we put together the following guide to creating environmentally friendly, diverse and on-budget events in 2023. Check out our tips on everything from sustainable gift ideas to incorporating diverse speakers, below.
GO PAPERLESS
The increase of virtual events during the COVID-19 pandemic led to innovations in the digital event space that can be leveraged now to reduce waste and reinforce your commitment to ESG values.
Event apps like EventMobi and Cvent put your agendas, maps and communications in the palm of your attendees' hands while increasing opportunities for sponsor recognition and networking. They also have the benefit of providing immediate data and results from your efforts, while saving paper and reducing waste.
If printed materials are necessary (as signage for example) be sure to use FSC-Certified, recycled or compostable paper products to maintain your commitment to a carbon-neutral event.
CHOOSE AND SHOWCASE DIVERSE VENDORS AND SUPPLIERS
Before you even begin to plan your next in-person corporate event, ensure your planning committee has diverse representation so the project is imbued from the beginning with a DEI perspective.
From planning to execution, you can make a conscious effort to work with vendors and suppliers that represent diverse communities. Commitment to diverse suppliers has been on the rise amongst businesses as they realize the financial and reputational benefits of investing in disinvested communities. In fact, spending on diverse suppliers rose an average of 54% between 2017 and 2020 across companies representing multiple global industries. As you choose everything from locations to caterers to corporate event gift suppliers and beyond, you are showcasing your commitment to increased representation and inclusion at every level. Seek out women and diverse owned event suppliers and increase awareness of their offerings, and your commitment to supporting them, through in-event advertising and messaging.
GIVE SUSTAINABLE SWAG
With the rising attention on sustainability, promotional items that end up in a landfill can stand in glaring contrast to your ESG values. However, the marketing benefits of branded swag remain: 51% of recipients regularly use these items in their day-to-day life – providing longtail advertising that achieves significant ROI.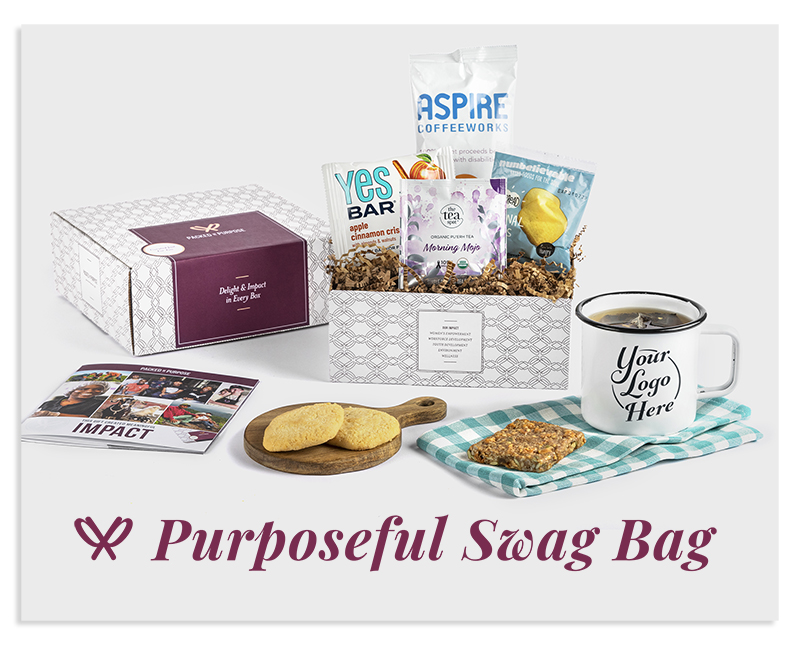 The answer? Sustainable and purposeful swag. Items that make a social or environmental impact, or more importantly, do not cause environmental harm are ideal for event attendees. Items such as a branded reusable water bottle are useful while limiting the use of disposable bottles. You can give out a classic stress ball but choose one that directs 100% of profits to help individuals with autism lead full and productive lives through meaningful employment. Or go big with the Purposeful Swag Bag, a sustainable corporate gift with a brandable and reusable stoneware mug that supports hunger relief efforts, cancer survivors, employment for individuals with disabilities and more.
Recipients are more likely to reuse your product if it is built with quality and to think positively about your brand if it makes a social and environmental impact on the world.
CHOOSE VALUES-BASED CONTENT
Whatever the subject of your corporate event, your event will be more inclusive for everyone if both your speakers and your areas of focus represent individuals and topics that represent diverse backgrounds. This is why your planning committee is so important – to ensure that varied backgrounds and perspectives are equitably represented to create a program that makes everyone feel invited and welcome.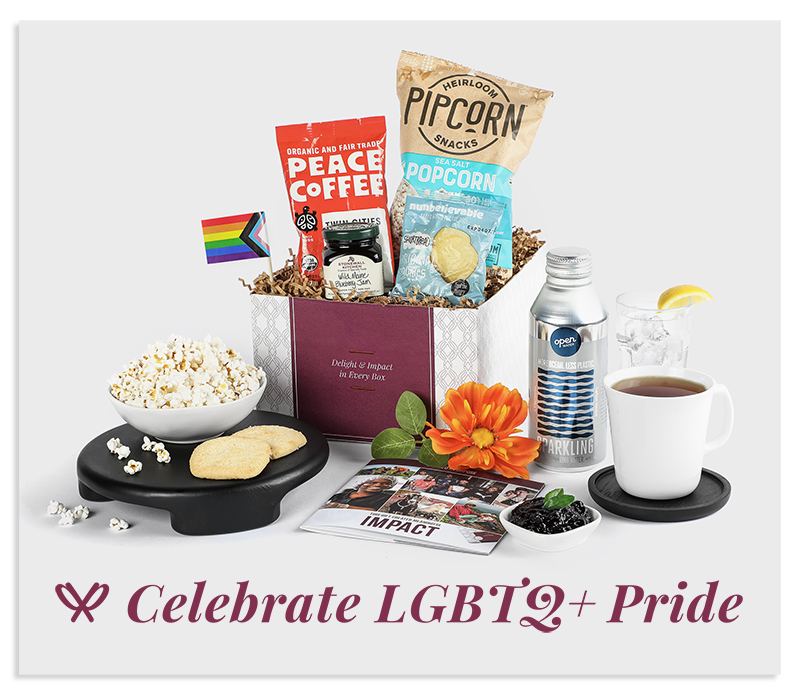 In addition, you can honor your speakers and guests with gifts that celebrate diverse heritages and make an impact. According to a global survey, 58% of corporate gift recipients want gifts from diverse organizations. You can reinforce the inclusion represented by your speakers and topics by giving attendees the Black-Owned Spotlight gift box, which supports Black-owned businesses, youth in need, eliminating hunger, and sustainable agriculture; the Celebrate AAPI Heritage gift basket that promotes sustainable business practices, women- and AAPI -owned businesses, and empowering teen girls from disinvested communities; and the recently released Celebrate LGBTQ+ Pride gift that features items that support LGBTQ+ businesses, initiatives to fight food insecurity, and sustainable business practices. 
GIVE SUSTAINABLE AND ECO-FRIENDLY CORPORATE GIFTS
With a return to in-person gifts, companies are back to "hotel drop" welcome gifts that send an inviting message to event attendees ahead of the day's activities. But just as swag should be purposeful and built to avoid waste, welcome gifts should also reflect your commitment to sustainability and diversity, equity and inclusion.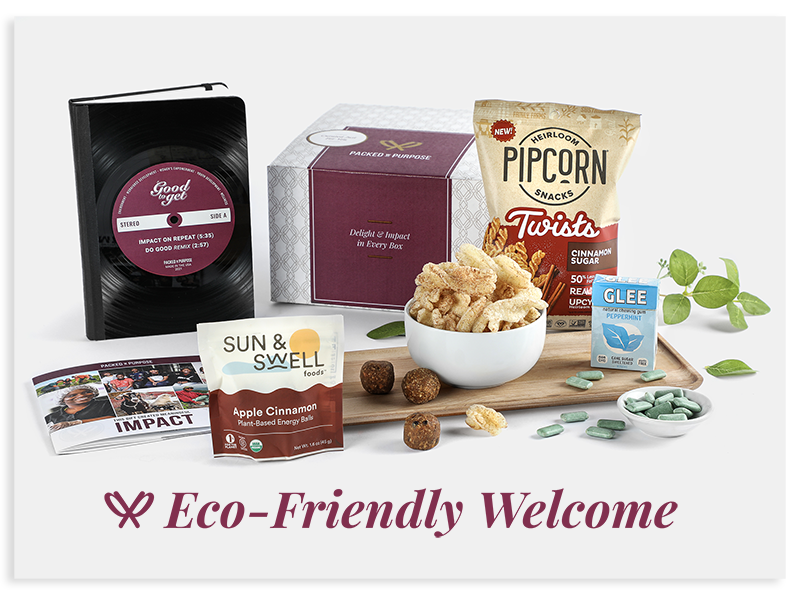 If you're stumped on sustainable corporate gift ideas, dive into Packed with Purpose's eco-friendly corporate gift selection with multiple options to delight attendees while making a difference. Kickoff your event with the Eco Friendly Welcome gift featuring a brandable recycled notebook and an energizing mix of munchies that supports 1% for the Planet companies and women and diverse-owned businesses. Or, offer the Event Amenity Gift which invests in Black- and LGBTQ+-businesses, the building of schools in disinvested countries, and employment for individuals with disabilities in a bundle of sparkling water, tasty treats and a notebook for notes. Finally, make their day effortless on the go with our tech forward Compact & Climate Friendly gift set containing an eco-friendly charger, a recycled stone journal, and a reusable water bottle.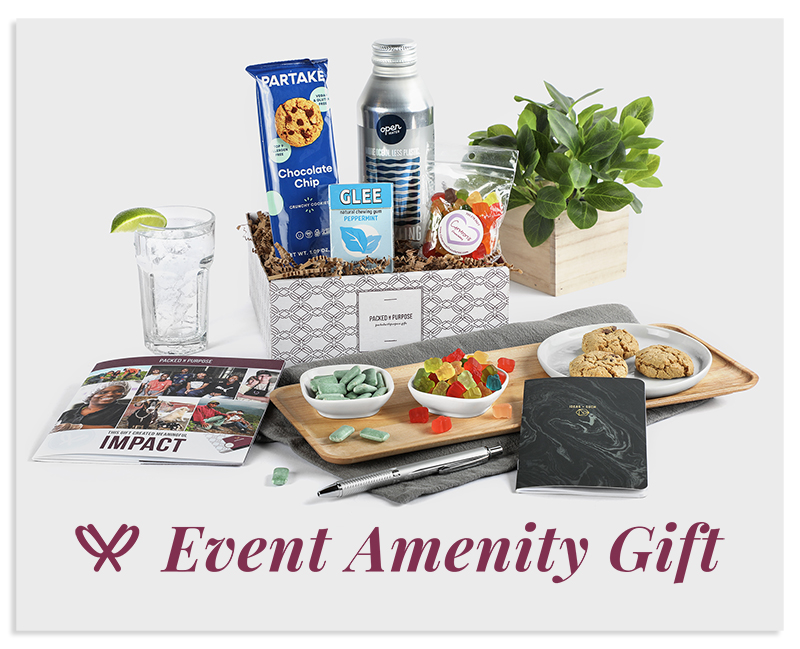 Corporate gifts are an engaging way to effectively show off your company's values while giving items of use to your event participants. But, all of the ideas in the guide above will make a difference for in-person events in 2023. From reduced expense and waste through elimination of paper products to the intentional choice of diverse vendors and suppliers, attention to detail will make the difference between an event that feels like a positive representation of your corporate DEI and ESG values or an event that adds to waste and prevents inclusion. From planning to execution, sustainable corporate gifts to purposeful swag and attention to your event's carbon footprint, your next event can engage, educate and leave attendees with an improved view of your brand.
---
About Packed with Purpose: Packed with Purpose is a Certified Woman-Owned business that embeds social and environmental impact into the everyday act of gift giving. These distinctly curated gift boxes source products from over 140+ purpose-driven organizations that transform more than 750,000 lives, resulting in a unique gifting experience that is as inspiring as it is impressive. Strengthen relationships with clients, employees, or friends with gifts for every budget or occasion through seamless ordering, branding and customization. Discover why the nation's leading brands choose to send gifts that are Packed with Purpose.
Amplify your impact today.