Testimonials
What Our Clients Are Saying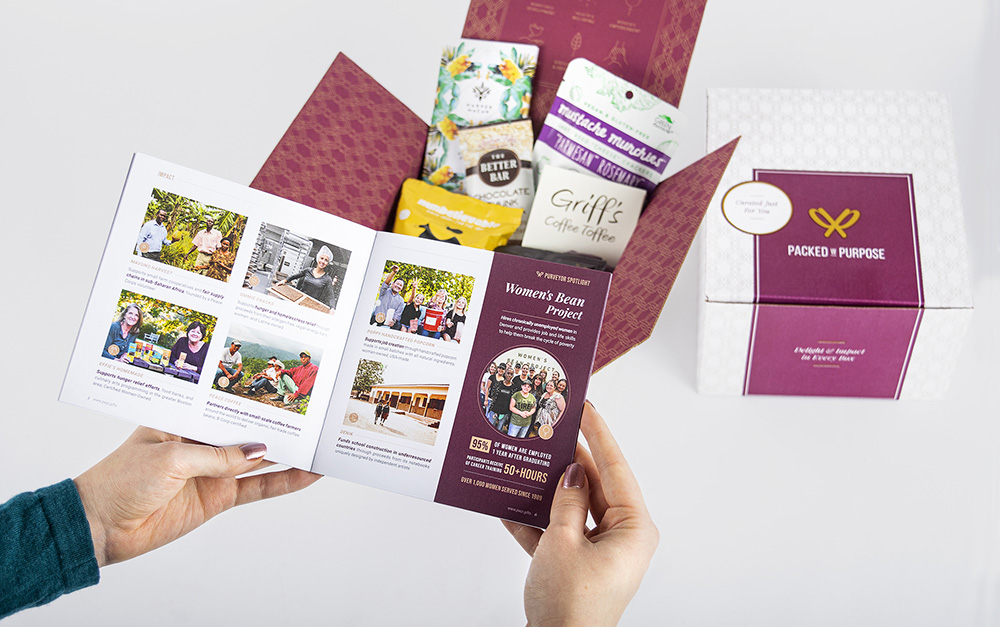 It's so nice to hear that our partnership is contributing to the HUGE difference Packed with Purpose is making! Thank you for ensuring all of our packages get to our people successfully and promptly. We are happy to support your mission.
— 2021 Customer
I really enjoyed using this company & site - so did my team - thank you so much for working with me!
— Hailey
PwC
"We sent your gifts last year and our clients raved! So much more compared to any gifts we've sent from previous years."
— Steph
Fine Point Consulting
"The Packed with Purpose team makes procuring and delivering a large order for our customers a breeze. The ease of the process and positive reception of the products has earned our repeat business."
— Shawn
Waste Management
"That was a wonderful surprise to receive. Thank you so much Leadership Team!"
— Packed with Purpose Employee Gift Recipient
Corporate Client
"I found your wonderful care package waiting for me this morning, right at my front door. What an amazing surprise, during an especially trying week."
— Packed with Purpose Corporate Gift Recipient
Corporate Client
"I chose to work with Packed with Purpose to customize thoughtful and purposeful speaker gifts at a global company summit for our employee resource group members. Our speakers found the gifts to be delicious and much more meaningful than your typical event swag. I was beyond impressed every step of the way and I'd work with them again in a heartbeat."
— Erin
Google
"Such a pleasant surprise to receive this thoughtful gift. Not only was it delicious, it was also incredible to learn about and support these amazing organizations."
— Megan
Packed with Purpose Personal Gift Recipient
"The campaign went well! We re-engaged with a few accounts and they LOVED the packages."
— Kelley
Lingo Live
"We received many positive notes from customers about the gifts, and we are thankful for your solution-focused approach."
— Sherene
NBC Universal
"The gifts were a tremendous hit!"
— Roger
Axia Technology Partners
"Wow! Your clear and timely communication and exceptional customer service has earned you rave reviews and a repeat customer. THANK YOU SO MUCH!"
— Heather
Personal Gift Customer
"Whether it's a CEO or a manager that wants to send gifts to their employees, or the head of sales that wants to send gifts to their clients, it's really an opportunity to create that human connection."
— Leeatt Rothschild
Founder & CEO, Packed with Purpose
"The Packed with Purpose team makes procuring and delivering a large order for our customers a breeze. The ease of the process and positive reception of the products has earned our repeat business."
— Shawn
Waste Management
"I had done a bunch of looking around for a gift company that supported local communities or social good in some way and was so happy to come across Packed with Purpose. Our company tries to do our part to support social good. We too are a woman-owned small business and it is a core value of ours to support other women-led companies. I am thrilled to have found your company! I am looking forward to returning for future orders."
— Alexandra
Caravel Marketing, Inc.
"Our gift box arrived yesterday afternoon and was opened and enjoyed by the entire office. We really loved the pamphlet that walks through the impact of each product."
— Maureen
Gift Recipient
"We absolutely loved the presentation and were smiling reading the purveyor descriptions. You can't help but feel good when reading them."
— Katie
Gift Recipient
"Packed With Purpose has a mission that is aligned with ours – to transform lives for the better. Their products lift up the communities in which they partner with."
— Bob
TD Ameritrade
"Thank you again for all your help! The care packages were beautiful, thoughtful and delicious. Our team was delighted to receive such a special gift during this time."
— Angelie
Adobe
"Thank you for being there to better serve our clients. We appreciate all that you do!"
— Whitney
Heartfire Wealth
"Compared to what we have done in the past I think this made our tenants take special notice of the thought that went into the gifts. We felt so good giving these gifts."
— Angela
Hines
"The gifts were a hit with the whole team! Only positive feedback. You were all very responsive and acted quickly to have them shipped out. Thank you so much to you and your team for being so kind and understanding!"
— Steffani
Corporate Client
"You guys are TERRIFIC! You have made my gift giving this year SO easy."
— Jane
Drinker Biddle & Reath
"These gifts were designed not just to show that you care about your employees, coworkers, and clients, but about what's happening in the world. They create an impact on a personal and societal level."
— Leeatt Rothschild
Founder & CEO, Packed with Purpose
"Packed with Purpose is like joining an amazing club, and everyone who gets one of their packages wants to join. I've never done any kind of client or partner communication that's had such an instant and positive reaction."
— Josh
Propllr PR
"I LOVE this certified Woman-Owned gifting company with a social mission! Their gifts give back and they provide vocational training for adults with disabilities, the formerly incarcerated, those with barriers to employment, and more. What could be better? Highly recommend using them if you want to send a personal or corporate gift!"
— Katie
Aspen Group
"Amazing story, amazing work, amazing impact on the community and the world at large."
— Mark
Veterinary Practice Partners
"My clients have already asked if I'm sending out Packed with Purpose gifts next year and my answer without hesitation was YES."
— Andi
Adler Weiner Research
"My clients really appreciated the thoughtful holiday gifts. A rather pleased client said that they were so happy to not open another bottle of wine (He then mentioned that he doesn't even drink but never wanted to tell me!) My admin really enjoyed working with your team. It was so easy and everyone was so nice."
— Jonathan
Cushman & Wakefield
"The Christmas gifts we sent were a hit! We've already heard from nearly a dozen clients who received them. I know the gifts have made many people think more thoughtfully about their own gift-giving habits. I look forward to working with your team again"
— Katie
Aspen Group
"This was probably the easiest holiday gift ordering process I have experienced."
— Stacey
Bonnie Management
"We partnered with Packed with Purpose for our 2016 holiday gift giving, and we couldn't be happier with that decision. Without a doubt, Packed with Purpose was the guiding force in helping us achieve our goal. They could not have made the process more enjoyable."
— Julie
Corporate Client
"Packed with Purpose helps us tell a story in a gift. We've never had so many clients call to tell us how delighted they were to receive such a thoughtful gift."
— Christine
Hinge Health
"I have sent your gifts to so many people. I love the company!!"
— Maria
Personal Gift Customer
"Our experience with Packed with Purpose was incredible from start to finish. We used one of their curated gifts to give to attendees at an event as a room drop, which the attendees LOVED. We also did a custom order in which we set up individual products out as a sustainable event centerpiece, and attendees were able to create their own box with a personalized note for the gifts to be donated to a charity. Packed with Purpose will work with you and your needs, along with their wide variety of products, to make the best experience possible."
— Cami
Planitomaha
"Partnering with Packed with Purpose is a total joy. We give their packages filled with social enterprise goodies to all of our guest speakers and volunteers and we receive constant compliments on the values and the value of their products."
— Seth
Baumhart Center Loyola University Chicago
"I looked for something local to give the attendees of our regional retreat in Chicago. We created a custom Packed with Purpose gift that included our company logo on the box. The attendees loved the gift and the local stories of impact. All of the food was delicious!"
— Louisa
RE/MAX
"The gifts were a HUGE success. The speakers all commented on how they loved them."
— Sam
First Agency
"Once again, HUGE SUCCESS!!! The feedback was amazing."
— Beth
Creative Artists Agency
"Our employees were delighted to receive their Packed with Purpose gifts, especially during this tough time. With a quick turnaround time, they had their boxes shortly after placing the order. Hope to use your gifts again in the future!"
— Julia
Fingerpaint
"We've switched to using your gifts as our go-to new employee welcome to the team gift." 
— Nick
Animal Medical Center of Chicago
"Packed with Purpose was great to work with. They were so helpful in answering all my questions, and got my gifts fulfilled and shipped in less than a week to hundreds of our employees seamlessly. Our employees absolutely loved the package we got, and were so appreciative of a gift that gives back. 5/5 Stars!"
— Hilary
Strata Decision Technology
"As CEO of a marketing agency, it was important that my team feel supported during this time. Since we now work from home, sending a surprise gift was the perfect solution. I received tons of positive feedback and am grateful that we could bring my team comfort in these uncertain times."
— Ashley
Yakkety Yak
"The gifts were extremely well received! The biggest and best responses we got were that the gifts were consistent with what we stand for as a company. This is exactly what we were going for! We give you a 10 out 10, and we look forward to working with you next year."
— Traycee
Mary O'Connor and Company
"I just wanted to give you a HUGE thank you for everything you did to help make our client gifts so wonderful. We have had nothing but positive feedback so far. Everyone really seems to enjoy the treats and especially the meaning behind it."
— Whitney
Heartfire Wealth
"Our sponsors LOVED the gifts. Everyone said they were very 'on brand' for us. Thank you for making the order so easy!"
— Madeline
Capacity Interactive
"It has been a pleasure working with you. Your customer service and attention to detail are superior to most. I also had many of our customers ask for your information so that they too could give a more meaningful gift. I look forward to doing business with you in the future."
— Sophia
CBX Global
"It was a pleasure to work with you on our company holiday gifts. All of our clients were delighted, and my internal stakeholders were very pleased."
— Jeremiah
Brand Muscle
"We love using Packed With Purpose because the gifts are unique, memorable, and they truly leave a lasting impact on our clients. Our clients love learning that every item has a story, and we love knowing that we're giving back."
— Alycia
GrowthPlay
"I just heard from one of our Account Managers that a client received the package and loved it! A huge thank you to you and your team for all of the amazing and unique work you do!"
— Madison
Raindrop Marketing
"We sent your gifts last year and our clients raved! So much more compared to any gifts we've sent from previous years."
— Steph
Fine Point Consulting
"I have been sending corporate gifts to my clients for over 25 years and I have never been so proud as I was this year when I sent out Packed with Purpose gift boxes."
— Andi
Adler Weiner Research
"We were so pleased with our holiday gifts! We love your social mission, beautiful packaging, and being able to support Purposeful Purveyors who transform individuals and communities. Packed with Purpose's mission aligns well with our firm's impact investing mission."
— Jamie
Community Capital Management
"Quality products, professional presentations and excellent service made for a phenomenal experience!"
— Allison
Circle Of Service Foundation
The Impact Booklet is outstanding. It really ties everything in the gift together.