The original purpose-driven gifting company earns socially responsible business recognition after rigorous B Corp Certification vetting process.
CHICAGO, February 27, 2023 — Packed with Purpose, a Certified Woman-Owned business that embeds social and environmental impact into the everyday act of gift giving, today announced that it has been certified as a B Corporation™ (B Corp™). This new certification furthers the company's commitment toward operating its business as a force for good, while delivering thoughtful, hand-selected and sustainable gifts.
The B Corp verification process administered by the nonprofit, B Lab, measures a company's social and environmental performance. To become a Certified B Corporation, companies undergo a rigorous review of the impact of their operations and business model on their workers, customers, communities and environment, and must meet a minimum verified score on the B Impact Assessment. Based on the B Impact assessment, Packed with Purpose earned an overall score of 83.6. The median score for ordinary businesses who complete the assessment is currently 50.9.
"Five years ago, we built this business to make a social and environmental impact and to use gift giving as an opportunity to do good both internally and externally. Now, we are thrilled to have been recognized as a certified B Corp company, to make it official!" Founder and CEO, Leeatt Rothschild shared. "As part of this certification we are now part of the B Corp community – a national and global movement of over 4,000 companies committed to do more good in the world. We are honored to receive this distinction and join this network of like-minded businesses to create an even larger collective impact."
Packed with Purpose was born out of a desire to merge the twin strategies of the amplification of corporate ESG (Environmental, Social, and Governmental), CSR (Corporate Social Responsibility) and DEI (Diversity, Equity and Inclusion) goals with the use of corporate gifting for engagement and appreciation of employees, clients and prospects. Since its launch in 2017, Packed with Purpose's expertly curated gifts source products from 140+ purpose-driven organizations, or "Impact Partners," that have positively impacted nearly 1.5 Million lives. From preserving the environment, to investing in women & diverse-owned businesses, to employing individuals with barriers to employment, these gifts transform lives and communities. 
The company rigorously vets each Impact Partner before inclusion in its gifts and reviews them annually. These relationships are true partnerships, not just transactional in nature. Vetting criteria requires that each Impact Partner make a social and/or environmental impact, provide exceptional product attributes (like taste, quality, packaging, overall aesthetic), utilize sustainable sourcing and fair trade practices, and adhere to paying a living wage and ethical treatment of employees. Packed with Purpose also shifted all in-box materials to FSC Certified paper, using 100% recyclable gift boxes, and updating shipping methods to save 2,143 pounds of carbon emissions in 2022.
Packed with Purpose joins a network of nearly 4,000 B Corps in 150 industries and 74 countries. Certification is a highly selective status – companies must document their positive impact to qualify and undergo verification every three years to maintain their Certification.
—
To celebrate our certification and B Corp Month, we are pleased to announce our Certified B Corp Bundle gift set – featuring a selection of items from 6 certified B Corp Impact Partners to bring awareness to the movement.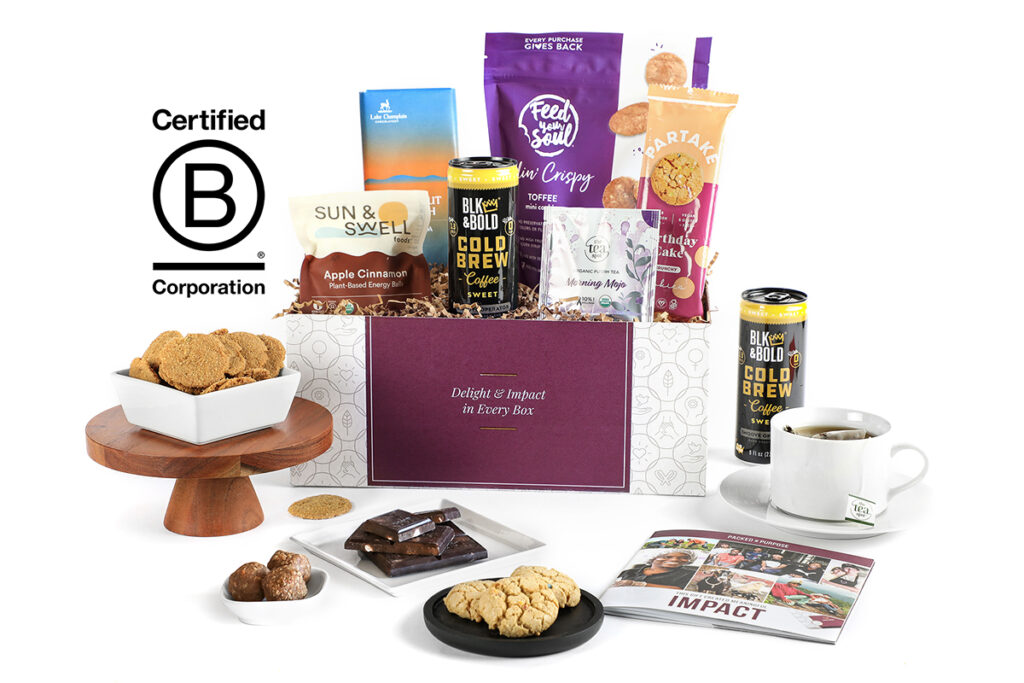 You can learn more about Packed with Purpose by visiting packedwithpurpose.gifts or connect with us on LinkedIn, Facebook, Instagram and YouTube.
About Packed with Purpose: Packed with Purpose is a Certified Woman-Owned business that embeds social and environmental impact into the everyday act of gift giving. Their distinctly curated gift boxes source products from 140+ purpose-driven organizations that have positively impacted nearly 1.5 Million lives, resulting in a unique gifting experience that is as inspiring as it is impressive. Companies choose Packed with Purpose to strengthen relationships with clients, employees, or prospects with gifts for every budget or occasion through seamless ordering, branding and customization. Discover why the nation's leading brands choose to send gifts that are Packed with Purpose. Amplify your impact today.