Everything you wanted to know about becoming a B Corp – but were afraid to ask.
In February 2023, Packed with Purpose was certified as a B Corporation™ (B Corp™), furthering the company's commitment toward operating its business as a force for good, while delivering thoughtful, hand-selected and sustainable gifts. We sat down with Packed with Purpose Founder and CEO, Leeatt Rothschild, and Finance and Business Operations Manager, Codi Tranel, to get a behind the scenes look at why they chose to become a B Corp, a deep dive into the certification process, and what this means for the business going forward. 
---
B Lab, the nonprofit that leads the certification process, explains that B Corps™ are businesses that meet the highest verified standards of social and environmental performance, transparency, and accountability. In your own words, what is a B Corp to you?
Codi Tranel (CT): Something that really stuck with me during the certification process was how B Corp companies place equal importance to people, the planet and profit.  Instead of one bottom line, we have a three pronged bottom line that guides our decisions, strategy and behavior.
Leeatt Rothschild (LR): Yes, I'd add that B Corps are also described as, "a global movement of people using business as a force for good." To me, that means a company that is committed to using all aspects of its business to do good in the world – to generate a healthy return for the business itself, to serve its customers and clients with integrity, to be a great employer who provides the best work environment, benefits and culture to its employees, to create a positive impact in the community with which it operates and to be a positive environmental steward for the planet.
Why did you want to pursue B Corp certification for Packed with Purpose?
LR: It was a no brainer! I started Packed with Purpose with the mindset and ethos of what a B Corp certified company is, so getting the certification was an official designation that would showcase the values and principles our business has always had.
CT: We wanted to make it official. We created the business with all the same intentions of a B Corp and we wanted to share that with the world.
What did the process entail?
CT: It was a very rigorous process of answering questions and providing documentation for 5 areas: Governance, Workers, Community, Environment and Customers. The questions were extremely specific – so an example would be, for your employees, What benefits do you provide? What percentage do you pay for their Health Insurance? What types of people do you employ? What neighborhoods do they work in? Do they come from marginalized communities? It showcases an intention behind putting together your team.
Then those same questions about employees are extended to your suppliers and other partners, for example our fulfillment center. Who are they hiring? How are they training their employees? Are they paying a living wage?
The section on the environment also extended to our suppliers and partners as well as our own environmental impact. Questions like, Do your suppliers leverage recyclable material? Do you have a policy around recycling, minimizing paper usage, and making sure any products we use are environmentally friendly. Does your fulfillment center use renewable energy? What is their electricity and water consumption? What is their overall environmental impact given their business operations?
LR: We had begun the process in early 2019, but by the time 2020 came around we had shifted much of our operations and grown to the point that we needed to restart the questionnaire to reflect our larger business. At this point Packed with Purpose was fully remote, our Impact Partners (purpose-driven suppliers) had grown exponentially, as did our team, and we had switched fulfillment centers. So we redid the questionnaire in 2020, eventually were approved, then moved on to the documentation portion – where we provided all the data or documentation related to answer on one of those five areas. Basically any answer that you got "points" for in the vetting process, had to be justified with documentation and data – so almost every question.
CT: Right, so if we had Impact Partners that were Fair Trade, we had to provide the names of our Impact Partners, their website, contact information, what % we spend with them, what is that percentage as it relates to our total amount spent across suppliers, etc. At one point we delved deeply into our fulfillment center's policy handbook.
LR: Finally, I had a call to talk through all of the data and they asked for additional documentation, including legal paperwork to support our status as a Benefit Corporation which involved working with our attorney. After all of this we were certified! 
CT: And then we'll do it all again every three years to maintain our status.
Did you learn anything interesting during this process?
LR: I found everything interesting! For example, many of our Impact Partners didn't "count" toward our points because they might not have had official designation, i.e. "Certified Minority-Owned" or "Certified Women-Owned." The reality is those designations cost money and require resources – and many small businesses do not have either to become "official." On the employee side, I think the process also really pushed us to provide even more benefits and codify everything as much as possible.
CT: One of the things that I learned and really appreciated was that the process really challenged us to make sure we are weighing profit, people and the planet equally while making choices. Asking ourselves, are we sure we're making the right choices for our community and the environment – even if it costs us more?
The process helped us think about the smaller nuances that as a smaller start up, helped us put policies in place early on, like a policy for recycling laptops, for example. It was exciting to be challenged and pushed to look at the company this way and to help us aspire as we grow to do even more to have a stronger effect on communities. 
LR: It means that even as a small business you can still be a force for good – you are never too small to be living the principles of what a certified B Corp is meant to do.
Now that Packed with Purpose is B Corp Certified, what does that mean?
LR: It means a commitment every single day to use the practices and policies behind operating Packed with Purpose to do more good in our local community, broader community and beyond. It gives us the opportunity to revisit what we offer, what we do and what we say to continuously be a better business.
CT: For me, being certified among a lot of great companies that are trying to be a force for good is inspiring. It is a great confirmation of the day to day work we're doing and that it does make a difference and has a purpose because now it's official that the company is committed to making that positive difference. All of our policies and legal structure will reflect this for years to come.
—
To celebrate Packed with Purpose's certification and March's B Corp Month, we are pleased to announce our Certified B Corp Bundle gift set – featuring a selection of items from 6 certified B Corp Impact Partners to bring awareness to the movement.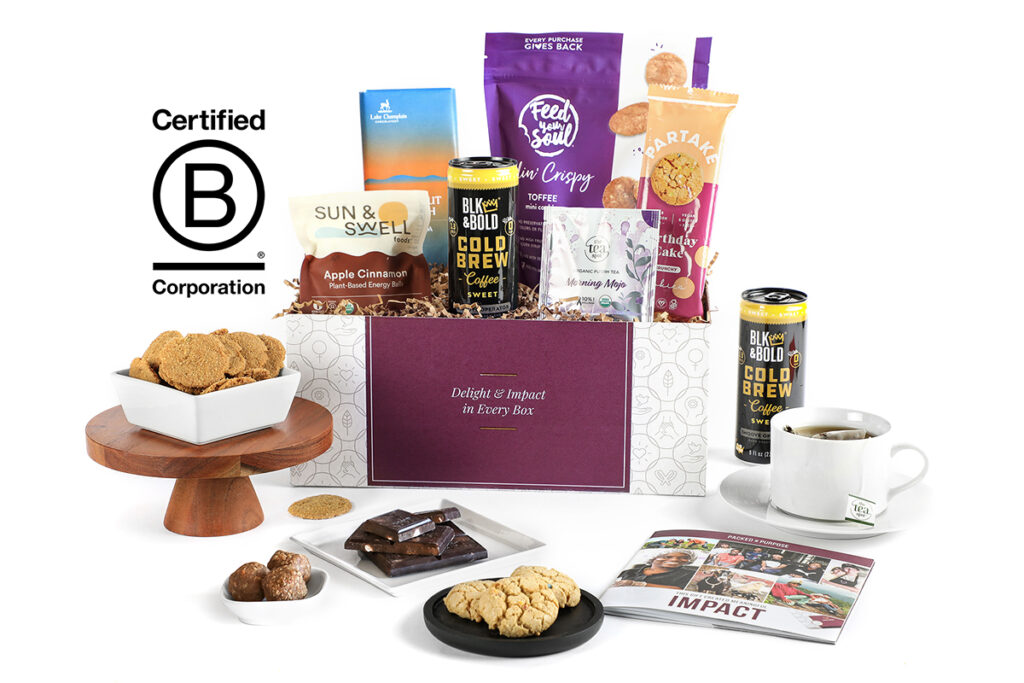 You can learn more about Packed with Purpose by visiting packedwithpurpose.gifts or connect with us on LinkedIn, Facebook, Instagram and YouTube.