Looking to send a meaningful corporate gift? Learn why sustainable gifts and eco friendly gifts are on the rise and how you can use them.
Corporate gifts, branded items, and conference swag have always been a reliable engagement and awareness driver for businesses. A gift can delight and convey your commitment to employees and clients, logo and tagline-plastered items can support word of mouth, and when was the last time you participated in a charity run without an ill-fitting t-shirt covered in sponsors?
The desire-for and benefit-of these products have not changed, but the concern about wasteful, unrecyclable and inexpensive marketing items adding to the world's climate and environmental issues, have. The core generations of shoppers, Gen-z and Millenials, are part of the rise of ESG (Environmental, Social and Government) and its influence. For example, 75% of Millennials are eco-conscious to the point of changing their buying habits to favor environmentally-friendly products.
Ensuring your marketing and engagement tactics meet the needs of both consumer targets (54% of Gen Z will pay 10% more on a sustainable product, 50% of millennials and just 23% of Baby Boomers) and employees (Studies in 2021 found that 64% of 18-22 year olds consider it important for their employers to act sustainably; over half also claimed that they would stay with an employer longer if they acted responsibly) can support the planet, reduce waste, and have a positive effect on your bottom line.
Packed with Purpose is a corporate gifting company which embeds social and environmental impact into the everyday act of gift giving. We're kind of the experts when it comes to meaningful, purposeful and sustainable gifts. April is the perfect time to get started with or expand your eco-friendly gift strategy as the world celebrates Earth Day 2023 on the 22nd. Check out our guide below for sustainable gift ideas and how to capitalize on them this April and year round.
Showcase your values and increase retention through sustainable employee gifts.
Our clients are often searching for gifts that will meet the needs of their employees for onboarding, work anniversaries and specific recognition occasions. Our 2023 Employee Recognition Report provides a roadmap to effective employee appreciation. An unexpected gift is one of the top ways our respondents look for recognition, with 75% of respondents hoping to receive a gift that is personalized and 63% looking for gifts that have a social impact. Given that Millennials will represent 75% of the global workforce by 2025, choosing gifts that reflect your team members' interests and reinforce your company's social and environmental values can be your key to the perfect show of appreciation.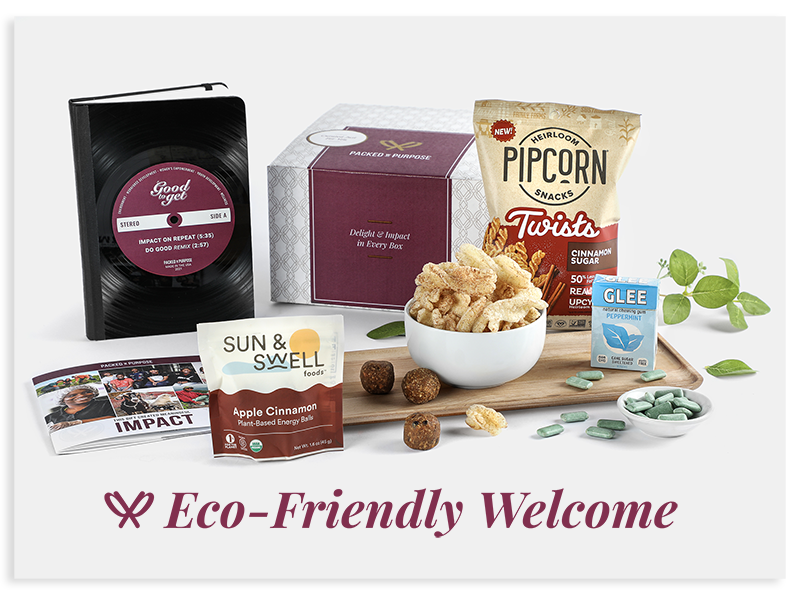 If you are looking for a welcome gift for new hires, our Eco-Friendly Welcome gift set will surprise and delight them while supporting environmental sustainability. Featuring a brandable, recycled vinyl record notebook to jot notes throughout the onboarding process, and snacks to keep them going like cinnamon sugar twists made with upcycled corn flour, and refreshing, all-natural peppermint chewing gum in compostable packaging, this gift also supports 1% for the Planet companies as well as women and diverse-owned businesses.
With 64% of employees now working remotely, keeping company culture front of mind and creating a sense of team across time zones adds a twist to employee engagement. Packed with Purpose's Work from Anywhere care package is the ideal way to say thanks and cut through the digital clutter. This eco-friendly collection includes our versatile, insulated tumbler, best-selling USA-made classic notebooks, compact screen cleansing towelettes for all your digital devices, and a (brandable) Bonsai grow kit, symbolizing luck and harmony. They'll brighten up their home office while supporting clean water initiatives, tree-education, and women owned businesses.
Lead the culture shift from wasteful items to sustainable swag.
In the last few years there has been a cultural shift away from unnecessary and wasteful "swag." But the need to share your brand with potential clients or event attendees remains. The answer? Sustainable swag – branded items that make a positive impact on the environment. You can be a leader in this cultural shift by switching to Packed with Purpose brandable products.
Packed with Purpose offers a wide variety of stylish, sustainable, impactful and customizable products to increase brand awareness without causing harm to the environment. From reusable utensils, water bottles, insulated tumblers and tote bags to reduce plastic use on the go, to wood journals and phone stands that support reforestation, and a wireless charging pad made from recycled silicone – you can add your logo to any of these eco-friendly and sustainable products. Or, give your next conference attendee the gift of bringing the environment indoors with a brandable Tree in a Tube. All of these individual items will be used by potential customers repeatedly because they are made to be reused, boosting your awareness wherever they go.
Or, go big with another Packed with Purpose sustainable gift, the Compact + Climate Friendly gift basket, perfect for conference attendees. With an ultra compact reusable water bottle, TSA-approved eco-friendly charger made of recycled plastic, and perfectly-sized, "tree-free" pocket journal made from 100% sustainably recycled stone, this is the perfect "on-the-go" thank you for the sustainably-minded set. A member of our Gift Concierge team can help you customize, so that your brand is on display.
Don't forget the packaging!
While you are searching for eco-friendly gifts for employees and clients, don't forget the potential environmental harm of packaging. Unlike other gifting companies, Packed with Purpose's packaging is 100% sustainably made. The box, the inside shred, and all packaging materials are all meant to reduce waste- made from 100% recycled materials as well as FSC Certified Paper – as we strive to continually reduce our carbon footprint.
The key to attracting and retaining top talent or potential customers? Broadcasting your shared values wherever you can. Consumers want to buy from a company that supports sustainability and employees want to work for them. When you choose sustainable corporate gifts you leverage a key engagement tactic that has multiple benefits – standing out from the crowd, appealing to your target, and showcasing your company purpose –  all while giving the joy of an unexpected gift. 
For your next conference, client outreach or employee welcome – give meaning, reduce waste and increase joy with a sustainable corporate gift.
---
About Packed with Purpose: Packed with Purpose is a Certified Woman-Owned business that embeds social and environmental impact into the everyday act of gift giving. These distinctly curated gift boxes source products from over 140+ purpose-driven organizations that transform more than 750,000 lives, resulting in a unique gifting experience that is as inspiring as it is impressive. Strengthen relationships with clients, employees, or friends with gifts for every budget or occasion through seamless ordering, branding and customization. Discover why the nation's leading brands choose to send gifts that are Packed with Purpose.
Amplify your impact today.