Packed with Purpose works with many small businesses across the country to curate gifts that not only create societal impact but also create a diverse and sustainable economy. These businesses are critical to the communities they serve, and each has a unique story to tell about their journey and definition of success.

As any small business owner can attest, it can be a long and wandering journey to find just the right place to be at the right time. Lake Champlain Chocolates is one such business that has made a name for itself in the confectionery industry through decades of hard work, reinvention, and creativity. This small business has been crafting high-quality chocolates and candies since 1983 from within Burlington, Vermont– a town known for its year-round natural beauty, stellar universities, unique culture, and thriving local economy.

We had the chance to chat with Jim Lampman, founder of Lake Champlain Chocolates, about how he started his small business, the challenges through the years, and the critical role small businesses play in the community.

Tell us a bit about Lake Champlain Chocolates and how you started your small business.


We got started in the early '80s and were really focused on being an all-natural chocolate company with no preservatives, without extenders. Just clean ingredients, and bringing European flavors and tastes into more American-style chocolates. 
I got my first taste of chocolate from my grandmother, who sent us the chocolate from the Midwest every birthday and Christmas. Later, I was in the fudge business. All those chocolates and fudge were kind of sweet, so we wanted to create something that was more about the chocolate, not so much about the "sweet." So that's how we kind of got going.
We carry many of your chocolate varieties in our PwP boxes because they are so delicious and of high quality. That's a hard bar to reach in the chocolate world, with so many producers. How did you get started and differentiate yourself from the competition?
The things we wanted to create would be fresh from the kitchen and with fresh, natural ingredients. We started with truffles, but the truffles kind of got in the way! That was the rage in the '80s. People couldn't get enough truffles, and now they've become a commodity 30 to 40 years later.  But what we really wanted to do was create a line of chocolates that nobody else had. And that's when we created the Chocolates of Vermont. The Chocolates of Vermont are four different chocolates that have the flavors and taste of Vermont: honey caramel, maple toffee, to name a couple.
Infusing those kinds of flavors back then was a little ahead of its time, unbeknownst to us. So that's how we got rockin' and rollin'. Putting chocolate in people's mouths was what it was all about and convincing them that they were worthy of the price. 
How were the first years of the business, and when did you start seeing success?
That's a great question. But, you know, I have a deep appreciation for anybody, especially back in the 80s, that would put our chocolates on the shelves, promote them, sell them, and then, most importantly, reorder them. So, we were fortunate at Lake Champlain Chocolates to get it off the ground. And, I say "we" because it was an effort by myself and other key people.  

Creating the brand was probably the most significant accomplishment, and it took years. We were not focused on being a retail store at all; we were really focused on being a wholesale producer that could sell to many stores in New England, which was the target market at the time. 
But Burlington is a unique town. It's a very strong, college, young, entrepreneur-type town. But, of course, it was back then as well! People were willing to pay that price [for our products,] which at the time was expensive for chocolates, and that's what really got us off the ground. So, you know, I have a deep appreciation for this community, and ever since, we've been giving back as much as we can.
It sounds like a beautiful place to get started. What other ways have you seen this interconnection between your business and Burlington, VT?
Our corporate name is Champlain Chocolate Company, spelled out. We were a grassroots kind of company when we first started. We weren't trying to be a European-style chocolate company that was all about fancy packaging and stale chocolates coming over to the US.  The "ah-ha" moment was about five or six years after we started, by changing the brand name to be Lake Champlain Chocolates.
Lake Champlain Chocolates was a geographic reference for people. A lot of people have been to the Champlain Valley and Lake Champlain. It's a beautiful, beautiful area if you've never been. And they've been here for many different reasons– whether it was school or college, going to all the summer camps around the lake. So, changing that brand name to Lake Champlain Chocolates was a big turning point, and it makes sense for people. It measured up to the quality of the chocolates and the price point that we needed to get.

Lake Champlain Chocolates also gives back to that same community in many unique ways, not just monetarily. Can you give us a few examples?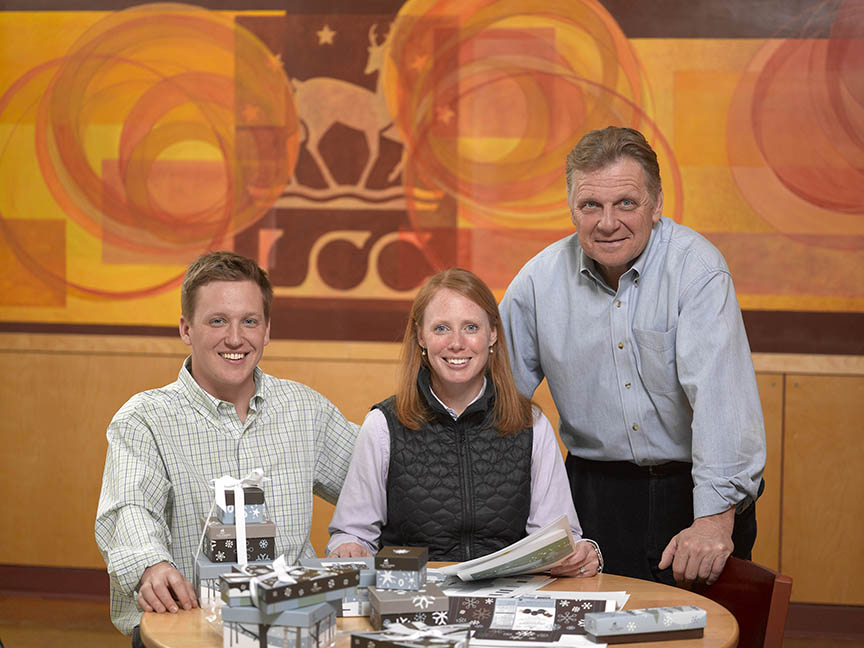 It's been a real focal point for us, not just by being all-natural but by still working with the same guy who produces all the maple syrup with us and making sure we have local honey from Vermont and the same dairy that we've used since the 1980s for heavy cream and butter. So those are companies with which we have strong ties. But, then, there are ways we've flipped that around– we support young companies who are just getting started. It's really all about creating a solid vitality, a robust marketplace in the community, and it's an alternative to, as you know, the big box stores and Amazon and so forth. Burlington is a setting that really supports small businesses.

Just recently, I supported a new guy who I just graduated from college. He's an arborist, trained by his father down in Connecticut, and he just graduated from the University of Vermont. We have lots of lovely maple trees around our property here, and they needed to be cleaned up and cared for. So doing things like that: helping people get off the ground, get started. It's really important not just to me but to other people in the company as well. 

We recently started carrying your "Restorative Moments" collection of chocolate in some of our gifts. So how did that line come about?
I did a succession plan with my two children (Eric is President, my daughter Ellen is Vice President and does all the purchasing and certifications.)  They created that line [ Restorative Moments ] with the innovation team here, and it has a good marketing angle to it, which is cleaning up Lake Champlain. It supports the Intervale Conservation Nursery, which is down the road a piece, and they're a nationally recognized program. Clean water and connecting to the planet– that's exciting stuff! I'm really happy that they're kind of continuing on the journey of supporting the community in those kinds of ways. They're also the ones responsible for getting us certified as a B Corp, and they've also worked to make about 70% of our chocolates organic, which is a great project in itself. 
What's something you're really proud of when you look back over the last 40 years?
I have to say that creating a brand is really exciting and all good, but providing jobs and benefits to hundreds of people is tremendous, too.
I have to take the time to mention the Vietnamese-American community here in Burlington. They, and their families, have been a huge part of what makes our company. They remain a huge part of our workforce and a vital part of our community.  [Burlington] and the communities around us have really changed in the last 40 years, and it's all been for the good. They're certainly a huge part of our culture, which we're very proud of.  We have about 100 full-time people and another 150 here seasonally or part-time. They're a well-respected and welcome part of the family. 
---
Lake Champlain Chocolates has called Pine Street home since 1983 over three different locations on Pine Street in Burlington. Since their beginning, they've grown and expanded into new buildings with enhanced shipping and production capabilities. Today they have a second location where all of the chocolates are made six miles from Burlington, in Williston, Vermont.
Annually, they welcome hundreds of thousands of visitors to their store in the South End Arts District of Burlington. What used to be an industrial neighborhood featuring loading docks for ships transporting goods to New York City has blossomed into an innovative hub of stores, breweries, craftsmanship, and artist studios. Today, they engage visitors in different ways through storytelling, tastings, demonstrations, and even Vermont's largest chocolate sculpture exhibit! 
No matter what the future holds, Lake Champlain Chocolates is proud to play a part in making Burlington, Vermont, a place where anyone can feel welcome and enjoy the beautiful surroundings for years to come. 

You can find a wide variety of Lake Champlain Chocolates in many of our gifts, alongside other incredible purveyors that give back to their communities in impactful, meaningful ways.