Keep it real. Eat the peel.
Reducing food waste through upcycled whole fruit snacks
In our first #ImpactSpotlight of 2023, we sat down with Matt Weiss, Founder of RIND Snacks to learn more about what drives his continued efforts to help fight food waste.
Their Mission: To help consumers snack better and do better by eating the whole fruit.
Impact in Action: In addition to minimizing food waste, RIND provides nutritious snacks to children and families in underserved communities through their "Love is RIND" initiative. Partnering with local organizations and schools, RIND donates nutritious whole fruit snacks to children and families in need.  
---
Tell us a little bit about RIND and what drove you to start the company.
Food waste is a big problem in America. We waste nearly 40 million tons of food each year and fruits and vegetables account for the largest portion. Imagine walking out of a grocery store with five bags of produce and leaving two in the parking lot. 
At RIND, we aspire to be zero waste. We believe a healthy snack can be both good for you AND the planet. My true inspiration for the brand was my great-grandmother, Helen. In the 1920s, before kale was cool, she opened her own natural foods store. She was ahead of her time in focusing on the power of whole foods and she insisted on letting nothing go to waste. She juiced daily, using only whole fruits and vegetables – roots, rinds, seeds and stems!  
She was truly the mind behind RIND and we honor her legacy with authentic and wholesome snacks, using the whole fruit which maximizes the nutritional value and minimizes food waste. She would have loved it! 
In your own words, what is the mission/company purpose behind your brand? Why is this so important to you?
Childhood hunger and nutrition insecurity remain major problems in our country and throughout the world. In fact, 1 in 6 American children do not know where their next meal is coming from and too often when that meal arrives, it is lacking in substantive nutrition. 
We believe it's important to provide lasting food and nutrition security for children and teach them healthy snack habits, helping nourish bodies and minds in the process.  
What's been one of the biggest challenges for you in building RIND?
RIND launched into retail in early 2020, just as the global pandemic was spreading around the globe. Those first few months of our brand's existence were among the most challenging and, by necessity, we were forced to build a more flexible, agile and diverse business than we initially anticipated. The good news is getting through the crucible of Covid has helped us navigate the inevitable curveballs that come up in the ordinary course of running and scaling a startup in an omni-channel world.
What key accomplishment or milestone are you most proud of achieving so far? 
In 2022 alone, we diverted over 1 million pounds of food waste from needlessly going to landfill while also donating 50,000 bags of RIND Snacks to nutrition insecure families. 
What are three words that define your brand?
Authentic, Innovative and Approachable
What do you love most about being a Packed with Purpose Impact Partner?
We love and live by the Jackie Robinson quote: "A life is not important except in the impact it has on other lives." We firmly believe that having a positive impact on others is the name of the game in both life AND business. As a mission-driven brand, we love working with Packed with Purpose to help small brands like RIND do more good and have more impact by reaching and delighting more audiences. 
– Featured Gift –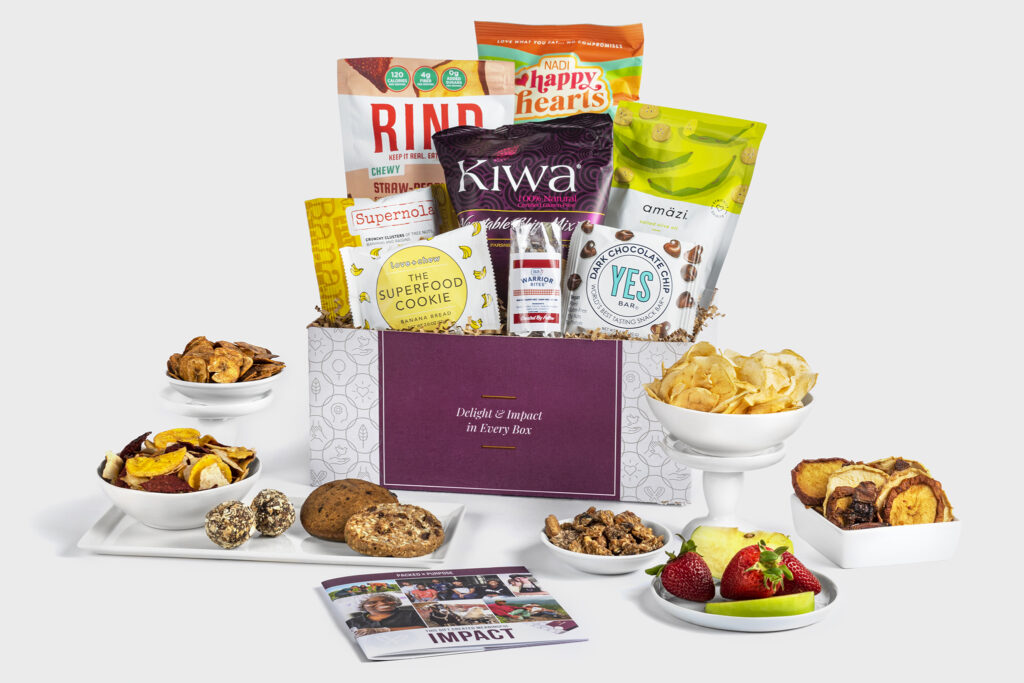 Scrumptious Healthy Snacks 
This gift includes RIND's Straw-Peary snacks alongside many good-for-the-body treats. It's the perfect way to share healthy yet delicious goodies with your friends, family or co-workers while also supporting nutrition access for under-resourced children and the reduction of food waste.