The Rise in Environmental Certifications and Subsequent Growth of Sustainable Corporate Gifts
As more and more consumers use their dollars to make a positive social and environmental impact, it has become increasingly important for businesses to clearly communicate their company's ESG (Environmental, Social, and Governance), DEI (Diversity, Equity, and Inclusion) and CSR (Corporate Social Responsibility) values. In fact, consumers are looking for businesses to lead the way: 86% of consumers think companies should be actively shaping ESG best practices. This has led to an increase in companies leveraging ethical and sustainability certifications like B Corp certification, 1% for the Planet, Rainforest Alliance, and Fair Trade to quickly demonstrate a commitment to these practices.
Businesses are utilizing certification more and more because that's what consumers want. Per a recent Mckinsey & Nielsen report: in two-thirds of categories, products that made ESG-related claims grew faster than those that didn't. As a Certified B Corp that curates products featuring many of the above certifications, Packed with Purpose has seen this commitment first hand in the surging popularity of our sustainable corporate gifts. Over the years, interest in sustainable and eco-friendly gifts has paralleled the rise in corporate gift purchases as companies advertise their commitment to ESG, DEI and CSR through client corporate holiday gifts, sustainable event attendee gift baskets and eco-friendly employee welcome bundles.
In honor of May's  World Fair Trade Day, a global event designed to draw attention to the objectives of the Fair Trade movement, we're breaking down these certifications, what they really mean, and how your business can best make choices that leverage them.
FAIR TRADE CERTIFIED
The Fair Trade Certified seal on a product signifies that it was made according to rigorous fair trade standards that promote sustainable livelihoods, safe working conditions, protection of the environment, and strong, transparent supply chains. For every Fair Trade Certified product sold, the producer earns a premium on top of the fair trade price. This goes into a Community Development Fund managed by a Fair Trade Committee, which consists of farmers, workers, and others responsible for the product. The committee then decides how to spend the funds to improve the lives of these individuals, as well as the needs of their communities and environments. You may have seen Fair Trade certification on everything from coffee to clothing to cocoa.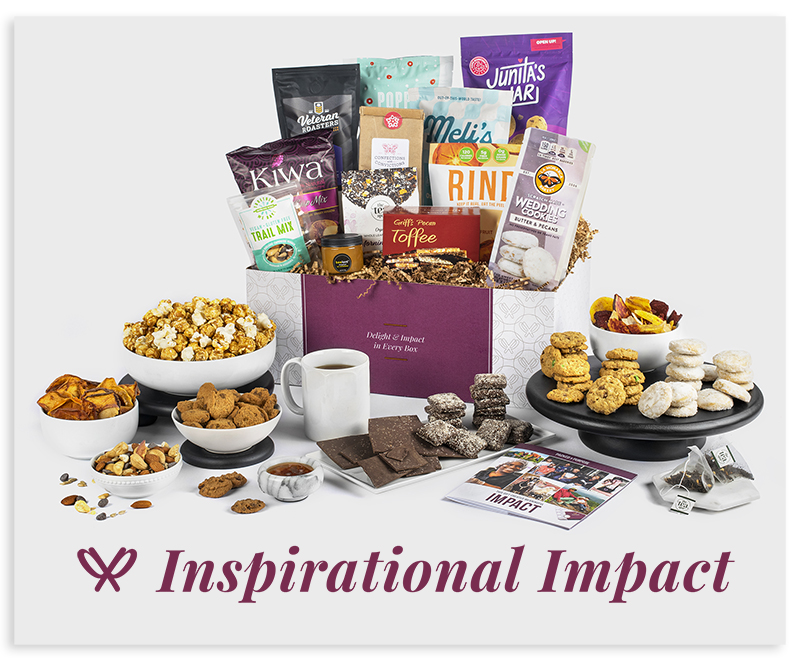 Depending on your organization, you can ensure that your products are provided by Fair Trade Certified partners or seek out Fair Trade certification yourself.
Packed with Purpose has several corporate gifts that include Fair Trade Certified products such as Gratitude Galore and Inspirational Impact. Packed with Purpose Impact Partners, our purpose driven product suppliers, that are Fair Trade Certified include: Aspire Coffee, Beyond Good by Madecasse, and Kanda Chocolates.
CERTIFIED B CORPORATIONS
Certified B Corporations are leaders in the global movement for an inclusive, equitable, and regenerative economy. The number of companies that have achieved B Corp Certification has grown from 534 in 2012 to 6,000 in 2023. B Corp Certification is a designation that a business is meeting high standards of verified performance, accountability, and transparency on factors from employee benefits and charitable giving to supply chain practices and input materials. A company goes through a rigorous vetting process to reach this certification and must continue to be audited over the years to keep their certification.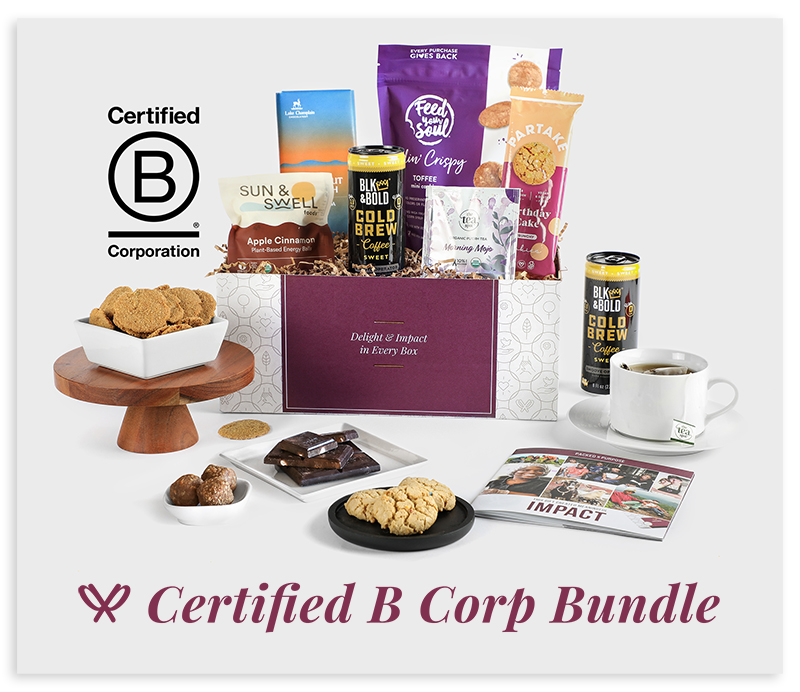 After a few years of working through this process, we were proud to announce our certification in early 2023 with the launch of the Certified B Corp Bundle gift set, featuring six of our B Corp Impact Partners, including: BLK & Bold, Lake Champlain Chocolates, Sun & Swell Foods, The Tea Spot, Partake Foods and Feed Your Soul. The gift raises awareness of the B Corp process and makes an impact in the areas of Diverse & Women-Owned businesses, cancer research and wellness programs, workforce development for disinvested youth, food access and education, and the elimination of food insecurity and hunger.
You can seek out B Corps to put your social and environmental commitment on display for everything from marketing to office supplies by searching the B Corp directory.
1% FOR THE PLANET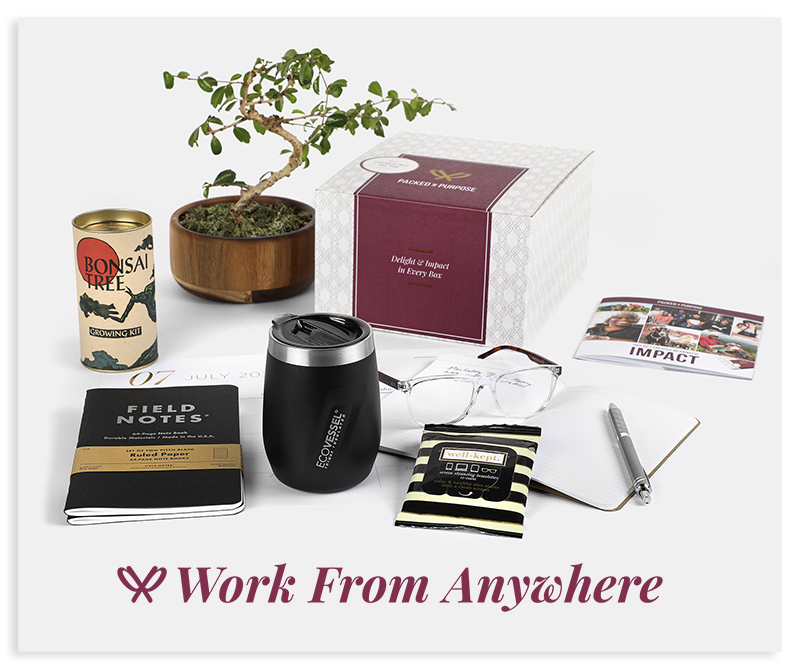 Members of the 1% for the Planet movement exhibit their commitment to environmental sustainability using a different model from B Corp or Fair Trade Certification. 1% for the Planet is a certification program for businesses committed to donating 1% of their annual sales to environmental causes. Founded in 2002 by Yvon Chouinard, the founder of Patagonia, and Craig Mathews, the owner of Blue Ribbon Flies, the concept was simple: because companies profit from the resources they take from the earth, they should protect those resources. Today there are over 5,000 members that make up a diverse global network of like minded organizations that give back to environmental causes.
Packed with Purpose's eco-friendly and sustainable corporate gifts highlight Impact Partners with 1% for the Planet certification. You can show your ESG values by sending remote employees our Work from Anywhere gift set with a reusable tumbler from 1% for the Planet member, EcoVessel.
RAINFOREST ALLIANCE
The Rainforest Alliance is a certification program that promotes environmental, social, and economic sustainability in agriculture and forestry. Founded in 1987, The Rainforest Alliance certification program covers a wide range of products, including coffee, tea, cocoa, bananas, and palm oil with the intention to protect forests, improve the livelihoods of farmers and forest communities, promote their human rights, and help them mitigate and adapt to the climate crisis. Members, which include farmers, producers and businesses, must pass an audit that meet the program's sustainability standards for agriculture and forestry
As of 2021, over 200,000 farmers and workers in 70 countries were participating in the program, and over 5 million hectares of land were certified under the Rainforest Alliance standards. 
The Rainforest Alliance certification program covers a range of industries, including agriculture, forestry, and tourism. As a business you can make choices like having employees stay at hotels that are Rainforest Alliance certified such as Fairmont or Hyatt or using paper products from Rainforest Alliance certified suppliers to gain credibility for your sustainable values.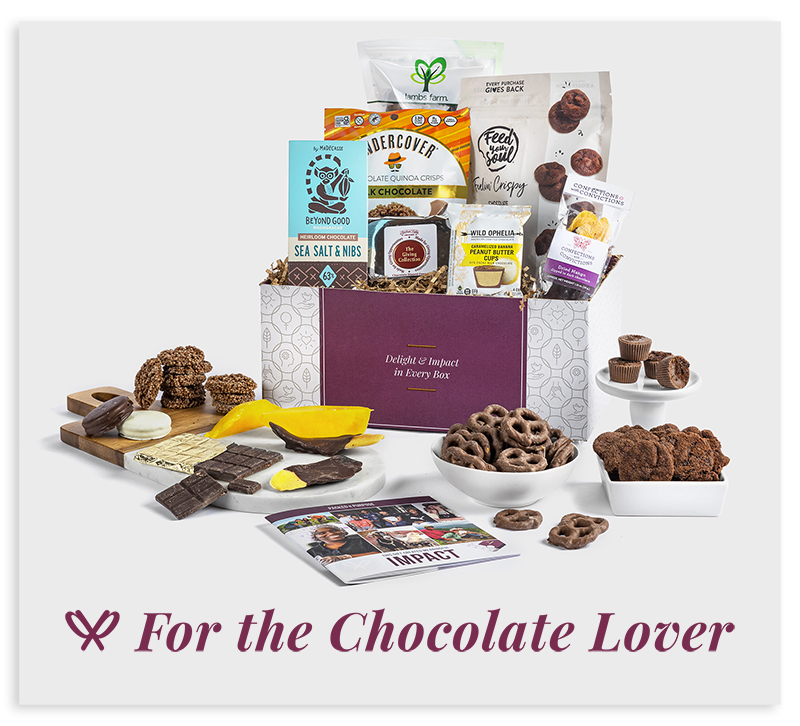 Packed with Purpose has multiple curations of corporate gifts that feature products and partners with multiple certifications. We recommend For the Chocolate Lover, a crowd pleasing best seller that will bring joy to clients and prospects with a Rainforest Alliance, B Corp, and Fair Trade certified medley of indulgent treats.  For the Chocolate Lover features additional certified Impact Partners like Confections with Convictions and Undercover Snacks. Or Snacks for Two, a sweet, nutritious, and salty mix of goodies that are 1% for the Planet, B Corp, and Fair Trade certified.
 As consumers vote for increased sustainability and climate friendly products with their spending habits, more and more ethical certifications have emerged, including Climate Neutral Certified, the Forest Stewardship Council certification, or the Global Organic Textile Standard. 
The rise of certifications lends credibility to sustainable and eco-friendly claims. As our sustainable corporate gift offerings continue to grow in popularity, our customers appreciate the transparency and clarity of these certifications. Consumers are increasingly looking for products that align with their values and businesses are recognizing that sustainability and ethical practices can have a positive impact on their bottom line.
As you double-down on eco-friendly business practices, you can back up your values by leveraging certified partners across all of your needs.
---
About Packed with Purpose: Packed with Purpose is a Certified Woman-Owned and B Corp business that embeds social and environmental impact into the everyday act of gift giving. These distinctly curated gift boxes source products from over 140+ purpose-driven organizations that transform more than 750,000 lives, resulting in a unique gifting experience that is as inspiring as it is impressive. Strengthen relationships with clients, employees, or friends with gifts for every budget or occasion through seamless ordering, branding and customization. Discover why the nation's leading brands choose to send gifts that are Packed with Purpose.
Amplify your impact today.