Chocolate crafted as food
Some people break bread at the table; we believe in breaking chocolate
This March, we celebrate Women's History Month with an exciting #ImpactSpotlight featuring Jean Thompson, mother, entrepreneur, world traveler and chocolate lover. From the start, Jean has made it a priority in her life to support women, in business and beyond. An unstoppable force for change, Jean is Owner & CEO for two chocolate brands in the Pacific-Northwest: Seattle Chocolate and jcoco.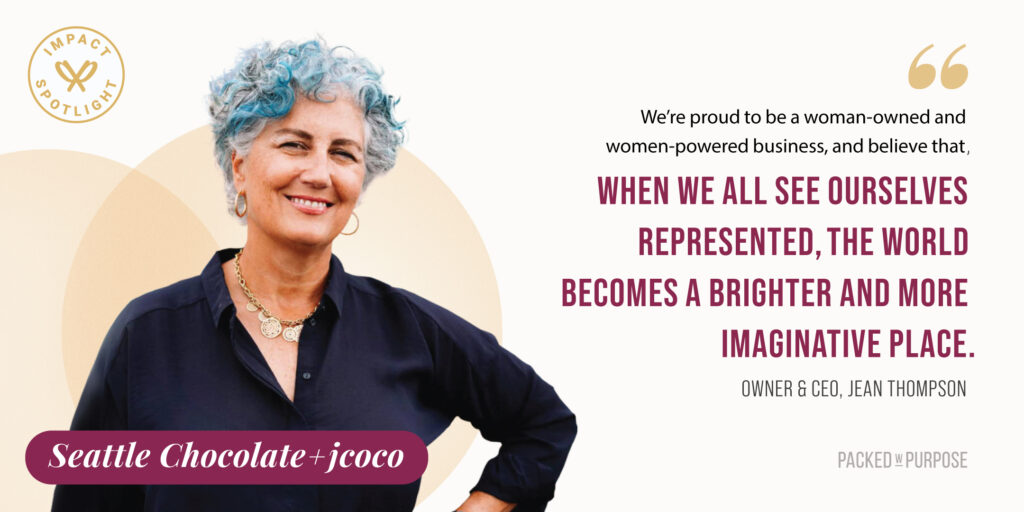 Mission:

Two brands, one mission. This woman-owned company is on a mission to make the world a better place through chocolate. They are endlessly inspired to evolve, to be better to the planet and to leave the world brighter (and more delicious) than they found it.

Impact in Action:

With every purchase, each brand gives back. Seattle Chocolate donates 10% of net profits to Girls Inc., inspiring the new generation of girls to be strong, smart, and bold. And because access to healthy food is something we all need to thrive, jcoco donates 10% of net profits to Americans affected by food insecurity.
---
Tell us a little bit about Seattle Chocolate – how did you become CEO? Also, what drove you to start jcoco? 
Well, nearly 30 years ago, I started with Seattle Chocolate as an early investor – just a few years after they were originally founded. In 2001, the original chocolate factory was destroyed by the Nisqually Earthquake and I stepped up to help fund the move to a new location and took over as owner and CEO.
A stay-at-home mom at that point, I had held roles in technology and marketing prior, however I really did not have manufacturing experience. But I did have a love for chocolate and really felt that I could make an impact. I saw a lot of things that I felt I could fix, so I took on the challenge. 
About 10 years into ownership of Seattle Chocolate, I founded jcoco (J for Jean). For this brand, I wanted to have a built-in philanthropic mission, a different flavor profile and smaller, solid chocolate bar. For jcoco, there's a focus on feeding hungry families at its core. With each purchase, we donate fresh servings of food to those in need. In addition, it's a brand that's leading us into the future through ethically sourced chocolate from Peru – the birthplace of cacao.
In your own words, what is the mission/company purpose behind your brand? Why is this so important to you?
Our company's purpose is to make the world a better place through chocolate. We consider ourselves entertainers but also take the responsibility of educating people about this crop that's very complex and changing. Chocolate is America's favorite flavor, however very few people know much about it.
As consumers, we are 100% reliant on companies to give us good choices – in terms of how products are sourced (ethically, sustainably), how they taste, and how they are packaged and shipped. We feel we need to create responsible, delicious, feel-good experiences for people. 
We are harnessing the power of chocolate to feed our hungry neighbors, we are helping the farmers who do not make enough and as a company that's 80% women, we're also advocating for women's and girl's issues along the way. 
We are outspoken about the things we care about and believe we can make a difference.
What's been one of the biggest challenges for you in building Seattle Chocolate and jcoco?
Well, not knowing how to run a company was hard. The learning curve was very steep. The self-doubt was hard. Looking back, I under-estimated everything. I just didn't know what would be involved in turning a company around or running a manufacturing company in the United States. Fundamental things like the fact we're in Washington State, we are far away from almost everywhere, chocolate needs to be temperature controlled, and it's heavy in terms of shipping. 
However, I think overall just having a really competitive product is the most difficult challenge. Having a chocolate among hundreds and hundreds of other delicious bars out there – it's hard to compete for consumer awareness,  rise above the crowd and get noticed. It's equally hard to convince retailers to bring you in versus someone else.
What key accomplishment or milestone are you most proud of achieving so far?
Early on, I needed to prove myself and earn respect. I had been an at-home mom for 9 years and I literally heard someone say, 'this housewife is going to put us out of business'. Wow. So because I chose that path, I can't choose a different path or somehow that makes me an unambitious or an unintelligent person?! That was rocket fuel for me. I was going to prove to them, to my family, to myself that I can do this. It just took a lot longer than I ever expected. 
When we started out, it took me almost a decade to turn things around and finally turn a profit. For many years, I thought it was a broken or flawed business model. Even worse, I thought perhaps I am the problem. Clearly I was the wrong person for the job and the company was doomed because of me. Luckily, I am stubborn and I never stopped trying. I never stopped innovating. 
So for me, one of the biggest milestones, and the one that I'm most proud of is the profitability turn, because I didn't think it was possible.
With all of that said, my biggest accomplishment by far is that I have a team of all A-players. Their values are aligned with mine, they believe we are making a difference and they are the folks actually making all of this work.
What are three words that define your brand?
Seattle Chocolate: innovative, fun, delicious
jcoco: groundbreaking, cacao forward, visionary
How has your identity as a woman-founder impacted your entrepreneurial journey?
I have read a startling statistic, "we have more CEOs in the world named John than there are women-CEOs?". I think being a woman-founder has overall been positive and there's a lot of people, many of whom are men, who are rooting for us. I'd say one benefit…because I'm a woman, I attract great women who want to work here. As a result, our culture is collaborative, communicative, creative and very uplifting and nurturing. 
Speaking of great women, I'm incredibly lucky that my daughter, who was in kindergarten when I took over the company, is now working by my side. She's my biggest fan – but also my biggest critic. She brings a fresh perspective, she's fun and she gives me great ideas. She questions everything, and I trust that I will get the truth. It's such a blessing.
What do you love most about being a Packed with Purpose Impact Partner?
Whether it's supporting diverse and women-owned businesses, women's empowerment, youth advancement or ethical and sustainable practices – we are so aligned! Not only do you talk the talk, but you truly walk the walk and I admire that about you. We are thrilled to be an Impact Partner.
– Featured Gift –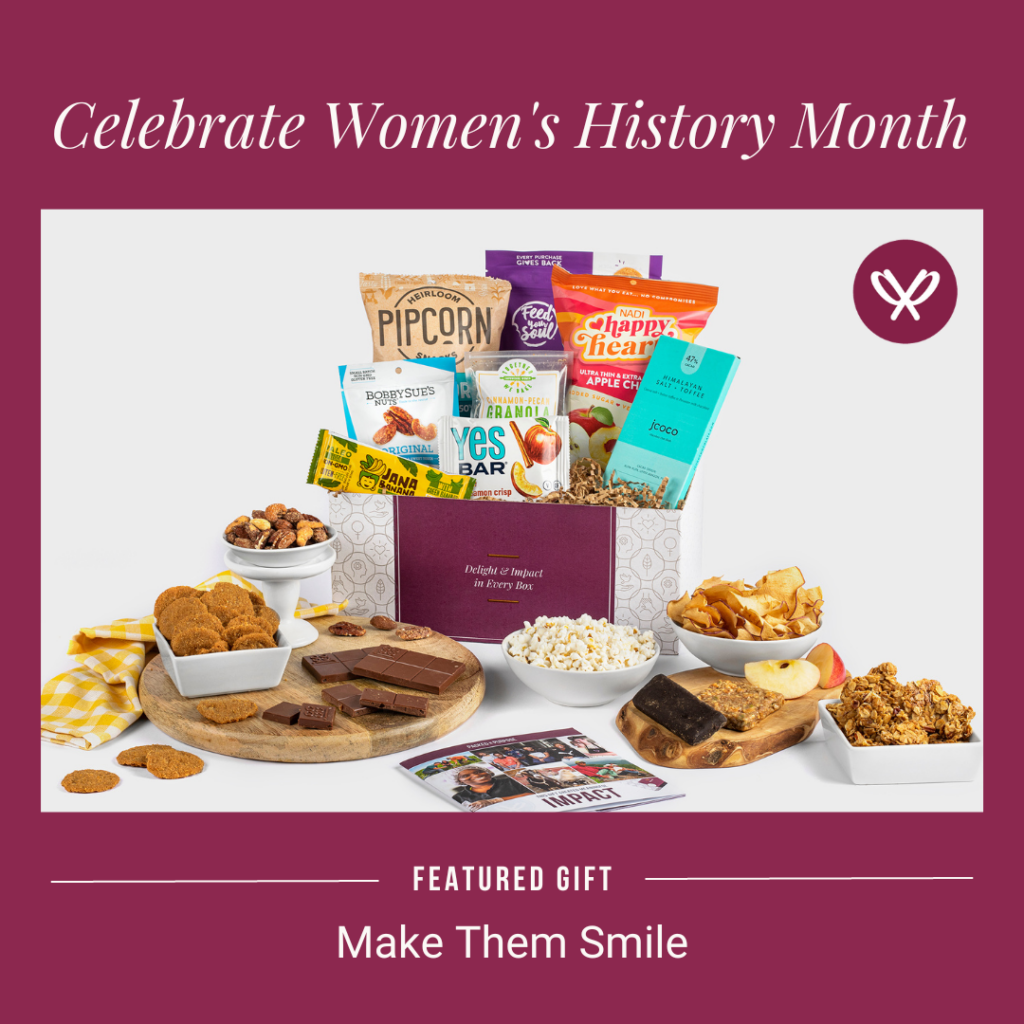 Make Them Smile  
Jean says it best, "when you support a woman-owned business, you help move us further towards a world where women are given the same economic opportunities as men – which means more innovation, more collaboration, and more magic." This month, share savory and sweet treats with your friends or colleagues – all from businesses owned, run, or founded by women – and help support women's empowerment.