Unique Ways to celebrate Mom. From Mother's Day Baskets to Memorable Experiences.
Officially signed into law in 1914, some version of Mother's Day has been around since the ancient Greeks honored Rhea, the goddess of fertility and motherhood. Today, it's a critical time to honor mothers (and mother-figures – step-moms, grandmothers, aunts, older sisters, friends) in the history of the holiday. Recent surveys show that 68% of mothers experience feelings of anxiety and 47% say parenting is tiring most of the time. It's been a difficult few years. And yet, celebrating Mother's Day can feel like you are going through the motions of the same generic activity that everyone else is doing. Mother's Day is the busiest day of the year for restaurants, the 3rd highest selling holiday for flowers and plants and more calls are made on Mother's Day than any other day of the year. If you're looking to break free from the pink carnation and brunch habit this Sunday, May 14, consider some of these unique gift ideas for mom below – from eclectic Mother's Day baskets to the gift of time.
We hope the mother's day gift ideas below spark your imagination to truly give all the mom-figures in your life a feeling of gratitude and thanks.
1. A HEARTFELT CARD. REALLY HEARTFELT.
We're not talking about the standard card you pick up while grocery shopping and quickly sign – we're talking about a heartfelt note that truly expresses your appreciation for whomever you celebrate on Mother's Day. If you're having trouble finding the words, include this powerful appreciation exercise in your card:
Bring your mom to mind.

With mindful awareness, write down five things that you appreciate about her. Things like her innate qualities, talents, or acts of kindness she has done and what they have meant to you. For example, "I appreciate that you gave me the gift of reading by reading to me every night."

Spend time with this appreciation and reflecting on whom you are celebrating.

Give her the card and give a deeper meaning to Mother's Day.
At a high level, appreciation is the skill of noticing the positive – not creating something new, just becoming aware of the positive that already exists. There are benefits for both the receiver and the giver of appreciation and gratitude like increased physical health and improved feelings of well-being. In other words, writing this note will make you and your mom feel good!
2. A MOTHER'S DAY GIFT BOX THAT MAKES A DIFFERENCE.
Certified Woman-Owned and B Corp, Packed with Purpose embeds making a positive social and environmental impact on the everyday act of gift giving through the unique curation of items from purpose-driven Impact Partners. Each gift makes a tangible impact across six different impact areas – allowing you to search for gifts that reflect your mom's true priorities. (Check out The Best Advice from Mom blog featuring several of our 140+ Impact Partners and their reflections on motherhood.)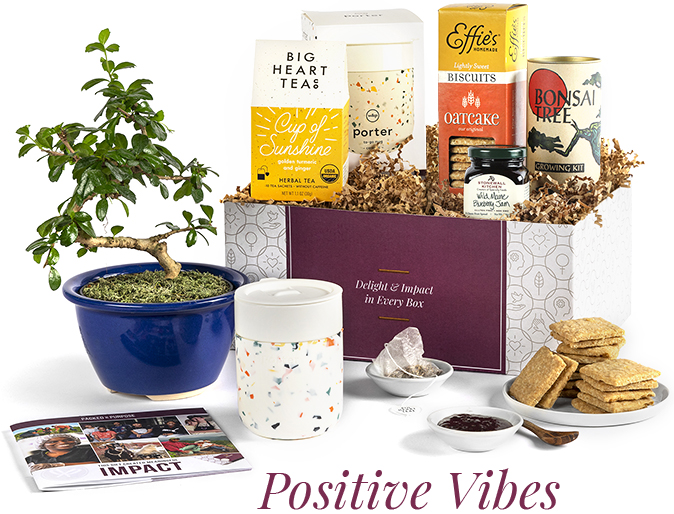 We recommend the Positive Vibes gift basket, a Mother's Day favorite lauded in House Beautiful's recent Mother's Day Basket Ideas. It features an indoor-friendly Bonsai for relaxation and contemplation, a stylish mug and comforting tea to enjoy in it, delicious oatcake biscuits and handmade jam. She'll love this eclectic mix, but she'll also feel a deeper meaning knowing this Mother's Day basket supports sustainability, women-owned businesses, hunger relief, and workplace development opportunities for youth. Share this video, Women Founders with a Story Worth Sharing to further delve into the impact of Packed with Purpose gifts and elevate the experience.
3. THE GIFT OF TIME. AND SOMETHING TO DO WITH THAT TIME.
In a recent study, 58% of moms said they wanted free time and to be able to "drop everything" for Mother's Day – more than any other Mother's Day gift ideas! You and your fellow Mother's Day collaborators can plan a full day of free time by stepping up to handle all her responsibilities that day. Take the kids somewhere, clean her house, go grocery shopping, clean up the yard – anything and everything that will lead to several hours of stress-free joy.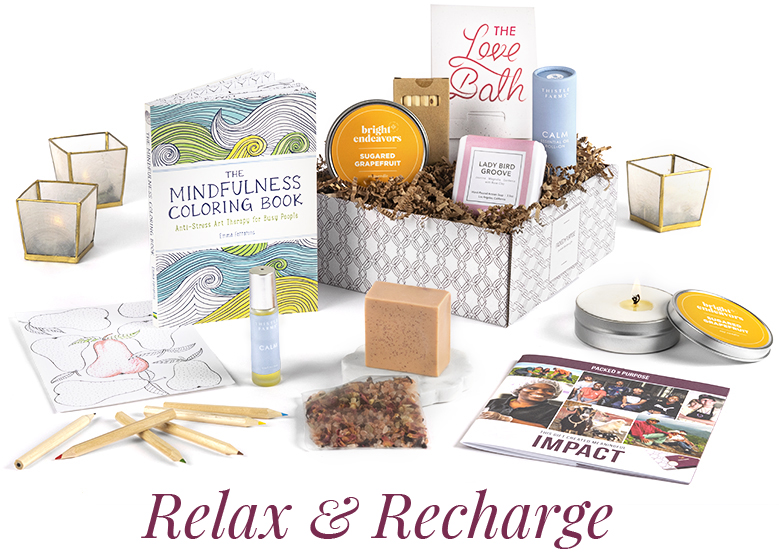 But you can go even further by adding a relaxing gift for mom to the experience. As soon as you close the door, she can dig into a Packed with Purpose Mother's Day classic, the Relax and Recharge gift basket. Her day will be spent rejuvenating and resting as she adds the rose, hibiscus, and Himalayan sea salt bath satchel and gently scented soap to her bath and extends the zen with a calming essential oil, sweetly fragranced soy candle, and meditative adult coloring book. This gift supports multiple causes for women including professional development to empower young moms, safe housing for women survivors of trafficking, and investing in women to break the cycle of chronic homelessness through hands-on training, mentorship, and employment.
Or go even further and give her the ultimate self care gift – a full spa day at home. The  Deluxe Spa Day Mother's Day gift basket will leave her relaxed, refreshed and recharged so she can thrive. A day of pampering in a box, this gift features calm-inducing lavender bath salts and lotion, a handcrafted soy candle with a fresh bouquet scent, and an eco-friendly ultra-soft silk eye mask for a renewing nap or contemplative meditation. This basket makes an impact in the areas of women's education, empowerment, employment, and more. So she can practice self-care while caring for the world.
Whichever bonus you add to her day, it will be the act of taking responsibilities off her plate that will make it the best Mother's Day gift ever.
4. SHARE AN EXPERIENCE. SOMETHING DIFFERENT, FUN OR NEW.
Yes, a lot of moms want to be alone on their special day – but there are many who want to spend it with their family. Too often however, planning a day of activity for kids and adults alike lands squarely on mom's shoulders. So take the management off her plate and surprise her with a shared experience that's already planned.
Go for a beautiful hike, attend a yoga class, see a movie in the theater (bonus points if it's a classic she loves), work on a puzzle together, or take a mini day trip to her favorite spot. Maybe there's something she's always wanted to do but there just hasn't been the time. This is your opportunity to get tickets to the opera, rent a Stand Up Paddle Board, or book an art class for the two of you. Keep your ears and eyes open to nail down the ideal experience.
It's the act of preparing this experience as well as this experience that takes this unique Mother's Day gift to the next level.
Moms make an impact everyday – on you, your family, as inspiration for some of our 140+ Impact Partners, and the future. Whomever you will celebrate on Mother's Day, we hope you are inspired by these unique gifts for mom. Whether you write a card or surprise her with a self care Mother's Day gift basket – taking the time to move beyond the requisite flowers and fixed price menu will make a difference. Afterall, she'd go the extra mile for you – why not do the same?

About Packed with Purpose: Packed with Purpose is a Certified Woman-Owned business that embeds social and environmental impact into the everyday act of gift giving. These distinctly curated gift boxes source
products from over 140+ purpose-driven organizations that transform more than 750,000 lives, resulting in a unique gifting experience that is as inspiring as it is impressive. Strengthen relationships with clients, employees, or friends with gifts for every budget or occasion through seamless ordering, branding and customization. Discover why the nation's leading brands choose to send gifts that are Packed with Purpose.
Amplify your impact today.