Baking Hope Into Every Cookie
Empowering a world without abuse, through cookies and connections
Junita Flowers, founder of Junita's Jar, is on a mission to end relationship violence and has turned her passion for baking and helping others into a career. In part two of our four-part series celebrating Black History Month, Junita shares her powerful story and passion for driving change.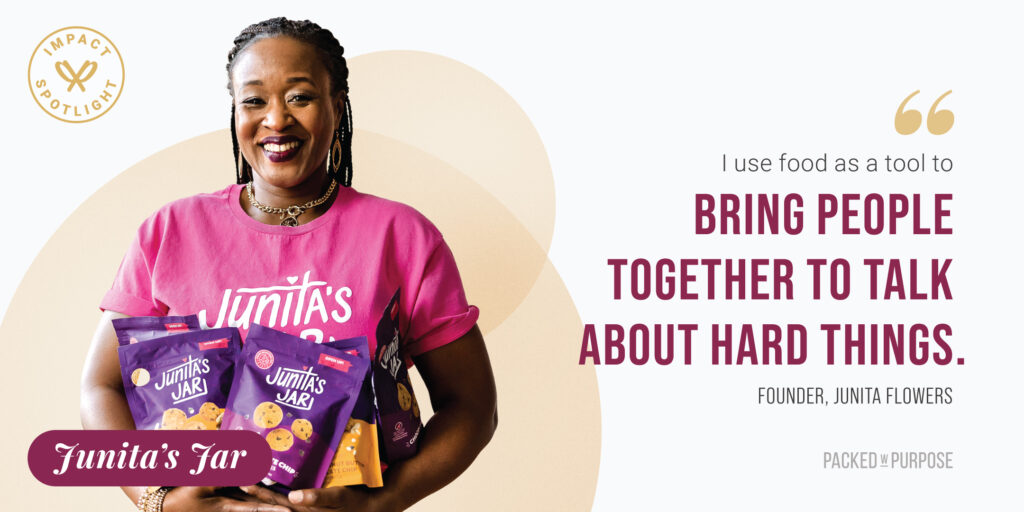 Their Mission: To bake hope into delicious cookies and empower women to live their best lives. 
Impact in Action:

A portion of all Junita's Jar proceeds go toward education and awareness initiatives dedicated to ending dating and relationship violence. This inspiring black and woman-owned Minneapolis-based company hosts Cookies For Conversations seminars at the city's University to teach young women about relational abuse and empower them to share their stories.

 
---
Tell us a little bit about Junita's Jar and what drove you to start the company.
It was the summer of 2013 and in the middle of the afternoon, I was driving my car down a busy highway with the thoughts and emotions of my failed marriage running through my head. Despite the fact that I had prayed and prayed for this to work, my life at home was emotionally and physically toxic. I felt isolated and emotionally trapped. I was dying on the inside and I thought my entire world would come crashing down. I was afraid and I felt voiceless. Suddenly, I found myself unable to maneuver my car – I was experiencing a panic attack. 
It was in that moment that a tiny sliver of hope washed over me. What if there's more? It was just enough to keep me going – afterall I didn't have another option. Hope was the game-changer. The thing that made me realize there were dreams inside of me that I hadn't even accessed. It was leading me to see a future that was waiting for me on the other side. 
During the times that I needed to emotionally escape my personal reality, hope helped me connect with the memories of my childhood. Growing up, we would cook and connect and create memories as a family.  
So, I started baking. There was something so healing and so replenishing every single time I baked a batch of cookies. From gathering the ingredients to baking the cookies in the oven to sharing them with friends. I found hope and a new life of possibilities. 
Hope was a tool that took me from a place of immense pain to one where I could be the change that I wanted to be and in 2018, I launched Junita's Jar. Now, I have the opportunity to engage and lead conversations to reduce relationship violence and spread a message of hope. I use food as a tool to bring people together to talk about hard things.
In your own words, what is the mission/company purpose behind your brand? Why is this so important to you?
As a survivor, I've always been a believer in the power of sharing your experience. When I needed to emotionally escape the chaos and just the trauma of being a part of an abusive relationship, it was baking cookies – that was my own personal, mental and emotional escape.
When we normalize and engage in tough conversations, we can become an important part of the solution that creates positive change. My goal with Junita's Jar is to empower a world without abuse. To reduce the shame, isolation and loneliness that is experienced by victims of relationship violence, through the powerful connection that is shared in conversation and community.
What's been one of the biggest challenges for you in building Junita's Jar?
Some of the most powerful lessons I've learned in life were from the messiest times, so with every challenge I embrace the learnings. As we've scaled, I think the most challenging part was finding the right partnerships and vendors to help us grow without compromising key aspects of the brand or at the sacrifice of the relationships we've built to date. Growing slowly is hard, but I'm committed to it because if I don't do it right, then I'm not going to be able to do it at all. 
What key accomplishment or milestone are you most proud of achieving so far? 
I'm most proud of creating a business that began from a place of trauma and loss and it has grown and flourished into an award winning, nationally distributed cookie company known for spreading a message of hope and positive change.
What are three words that define your brand?
Inspired, Hope, Deliciously-Satisfying
What do you love most about being a Packed with Purpose Impact Partner?
We are beyond grateful for all the ways the Packed with Purpose team continues to support us and we are proud to be an Impact Partner. Working with the PwP team has been a valuable and welcomed business connection. The team was intentional in connecting with and purchasing from businesses led by black female founders, including Junita's Jar. Our connection with Packed with Purpose is a shining example that, together we rise.
– Featured Gift –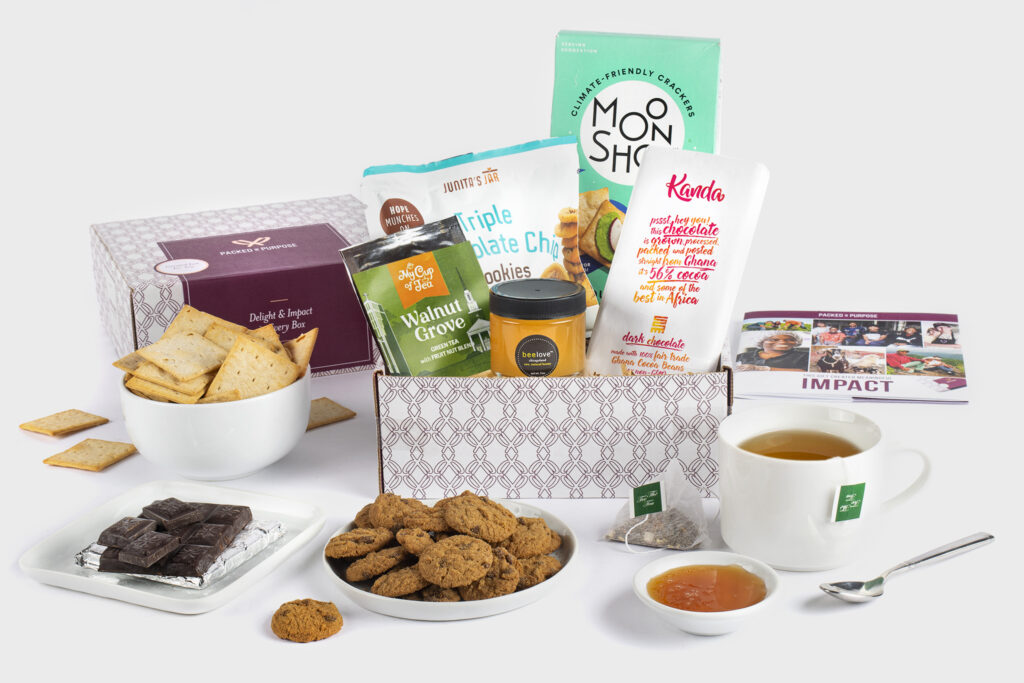 A Taste of Impact: Black History Month
While many of our gifts include Junita's Jar, this month we shine the spotlight on A Taste of Impact: Black History Month and Celebrate and Elevate gift sets. With each gift, not only will you get to munch on Junita's delicious chocolate chip cookies, but you'll be supporting a Black and Woman-owned business as well as education initiatives dedicated to ending relationship violence.