From humble beginnings to the future of food
This Certified B Corp makes eating and sharing deliciously worry-free 
In celebration of Black History Month, we are thrilled to shine a spotlight on Founder and CEO Denise Woodard and New York-based Partake Foods to learn more about the story behind their delicious, allergy-friendly foods. This is the third in our four-part series featuring Black-Owned businesses in February.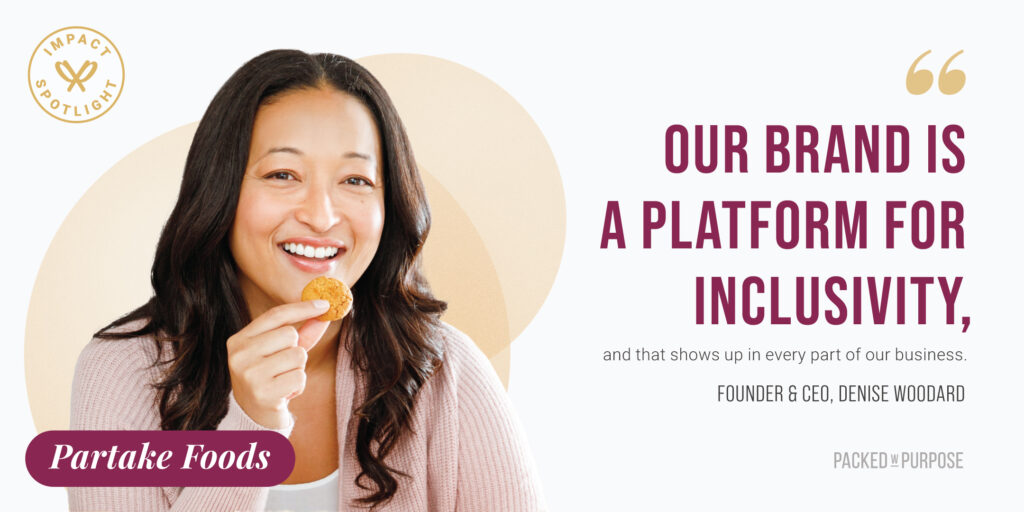 Their Mission:

To offer a selection of delicious, allergy-friendly foods that those with and without food restrictions can enjoy and share with confidence.

Impact in Action:

Food allergies affect 1 in 13 children across the country, and Black children are at a significantly higher risk of developing these allergies. Passionate about getting safe food into the hands of food insecure families, Partake partners with organizations like #HashtagLunchbag, Eat.Learn.Play. and The Birthday Party Project to provide access to the food, education, and advocacy these families deserve. In 2020, Denise founded Black Futures in Food & Beverage, an annual fellowship program that mentors HBCU students and helps them secure internships and jobs at the program's end.
---
Tell us a little bit about Partake and what drove you to start the company.
I'm from Fayetteville, North Carolina, I grew up there. My father's Black, my mother's Korean, and I'm the first person in my family to graduate from college. I spent nearly a decade working at Coca Cola and, during that time, I had the opportunity to take a role leading sales for their emerging brands group where I got to work with high-growth, mission-oriented beverage brands like Honest Tea and Zico coconut water. It felt like the perfect job for me.
But right around my daughter's first birthday (she's 7 now), we learned that she's allergic to eggs, corn, tree nuts and bananas – a hard to shop for combination! I was really frustrated with what I could and couldn't find for her. I felt like there were three areas with which I was particularly frustrated:
From a

taste

perspective, it felt like a lot of the allergy-friendly products tasted "allergy-friendly." Which was not a compliment.

Nutritionally

, I always assumed everything in the gluten-free or vegan part of the store was healthy or better for you, and I quickly realized that that was not the case. Many were full of gums, starches, sugar, and a lot of ingredients that I didn't feel great about giving my daughter. 

And most of all, I thought about the

emotional impact

that having food allergies would have on her. I grew up in an environment where food was something that brought people together to celebrate, and I felt like she would have the total opposite experience. While I was grateful that there were some allergy-friendly brands that existed, none of them really felt like brands that people without food allergies willingly chose to eat. 
And so, I decided to do something about it. I spent the next year trying to find where I would make the products and, in August of 2017, I left my job at Coca Cola to launch Partake as a self-funded, self-distributed business.
In your own words, what is the mission/company purpose behind your brand? Why is this so important to you?
When I came up with the name Partake, it came from this idea that I wanted my daughter, and anyone with food allergies, to be able to partake and enjoy. But then as a woman, as a first-time entrepreneur, and as a person of color, I realized there are a whole bunch of other groups of people that need the same opportunity. Our brand is a platform for inclusivity, and that shows up in every part of our business. Our products are safe for over 90% of Americans to eat, our leadership team is 100% women, our company is 38% people of color, and our investors are primarily women or people of color or funds that invest in those groups. 
We also back up this inclusivity with our social impact efforts which focus on fighting food insecurity and increasing diversity in the food industry. In 2022, we donated 1 million meals to food insecure families through our partnership with No Kid Hungry, and this year we are excited to continue those efforts with groups like Eat.Learn.Play, The Birthday Party Project, and #HashtagLunchbag. We also launched the Black Futures in Food & Beverage Fellowship in 2020 to change the future of inclusivity and diversity in the food industry.
What's been one of the biggest challenges for you in building Partake?
I think fundraising is a challenge for any founder during the current macroeconomic climate, and even more so as a woman and person of color. While working with this small pool of money that's going to groups of people that look like me is quite a challenge, I also raised the bar for myself to only work with people who are working to better the world. So far, I've been fortunate to surround myself with mission, vision, values-aligned folks, but fundraising has been a challenge.
Aside from being named to the Inc. Top Female Founders (congrats by the way!), what other key accomplishment or milestone are you most proud of achieving so far? 
I think getting on that first retail shelf was probably the biggest accomplishment. I remember being at my local grocery store with my then three-year-old daughter when she ran down the aisle and grabbed the box and said, "Mommy's cookies!" For her to see this accomplishment that started because of a challenge our family was having has been one of the things that keeps me going and that I'm most proud of.
What are three words that define your brand?
Inclusive, celebratory, and safe. And "safe," goes beyond the form of our products to also include a safe space for everyone to feel seen, heard and celebrated.
How has your identity as a Black founder, or as a Black female founder shaped your entrepreneurial journey?
It's shaped me in a few ways. One, it's made me much more deliberate and passionate about creating an inclusive space where everyone feels celebrated, welcome, and included, because there have been so many times in my career and my journey that I haven't felt that way. I think it's the right thing to do, but I also think it's just good business – study after study shows how much more high performing diverse teams are.
Sometimes people think being a Black woman founder is a disadvantage, but I think it has worked to my advantage as well. It's allowed me to relate to so many different groups of people. We have phenomenal partners (like Packed with Purpose or, on the retail front, Target) that love our brand because of who we are. And, because of my experience as a black woman, it's shaped how I think about building out our team, our investor base, and our impact. It's helped me be a more authentic and genuine leader.
What do you love most about being a Packed with Purpose Impact Partner?
As I mentioned before, it's very important to me to make sure that we have people around the table – whether they be investors or members of the team – who are aligned from a mission and values perspective and who want to see the world evolve to become a better place. Packed with Purpose is the epitome of that, and I so appreciate your business and partnership.
– Featured Gift –
Black-owned Spotlight
Celebrate Black History Month by sharing the products and stories of our Black-owned Impact Partners with your colleagues, friends and clients. Not only will you amplify brands like Partake Foods, but you will be supporting sustainable employment opportunities for youth in need, sustainable agriculture and eliminating food insecurity.