Gourmet Seasoned Potato Chips
All-natural potato chips with a harmonious blend of flavors in every bite
In celebration of Black History Month, we kickoff the first of our four-part series in February by shining a spotlight on Dondre Anderson and Atlanta-based Symphony Potato Chips to get the scoop behind their amazing, flavorful chips.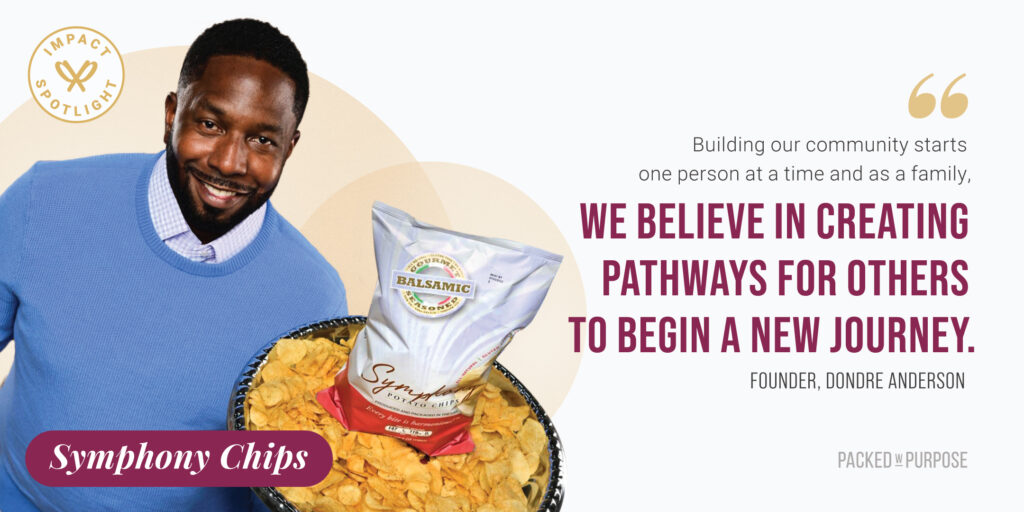 Their Mission:

To provide the world with a better snack experience and empower the communities that need it most.

Impact in Action: In an effort to help give non-violent, justice-impacted youth a fair chance, this Black-owned snack company created Symphony Crumbs, a non-profit organization that provides manufacturing scholarships to local graduates.  
---
Tell us a little bit about Symphony Potato Chips and what drove you to start the company.
Well, we actually began as a spice company. My dad, Andre' Anderson, is a retired Las Vegas Chef. While working on the infamous Las Vegas strip, he developed a 28 herb and spice blend that caught the attention of patrons and fellow chefs alike. So naturally, when I tried it, I was blown away. I loved it so much I convinced my dad that we needed to package and sell the seasoning ASAP. 
Once the spices were featured in a grocery store, we quickly learned that no one buys spices they cannot taste, no matter how pretty the packaging. So we began doing in-store demonstrations. Starting out, we presented the seasoning on raw vegetables and popcorn. However, it wasn't until we put it on homemade potato chips when people began to notice its unique flavor. The feedback was the same, "the spices are good, but where can I get a bag of these chips?!" 
Thus, Symphony Chips was born.
In your own words, what is the mission/company purpose behind your brand? Why is this so important to you?
Building our community starts one person at a time and as a family, we believe in creating pathways for others to begin a new journey. We want to bring jobs to our community and empower others to grow. 
We started at a co-op grocery store in the heart of Atlanta. It was there that our spice company became a potato chip company. However it took that co-op giving us a chance and supporting us. And success happens when preparation meets opportunity. We want to help others with the preparation.
That's why we created Symphony Crumbs – to help non-violent, justice-impacted youth rebuild their lives and thrive within manufacturing. This year, in partnership with a local vocational school, we just awarded our first annual scholarship to a recent graduate. It's my hope that this support helps this young man build a sustainable career in the community. And we're just getting started!
What's been one of the biggest challenges for you in building Symphony Potato Chips?
I think the biggest challenge I've faced is actually growing pains. They say in business, "The people you start with are not the people you are with long term." Well, that is very true as we have had to switch suppliers in our supply chain many times to accommodate not only our growth, but also our commitment to quality and service.
What key accomplishment or milestone are you most proud of achieving so far? 
I would definitely say that my key accomplishment has been being able to leverage my family effectively. Even though my family is young and still developing their own ideals and strengths, it's been amazing to have their contributions in areas where they are strong today as well as where they'd like to grow later on in life. I'm a true believer in aligning our company goals and initiatives with the people that work here.
What are three words that define your brand?
All-Natural, Gourmet, Harmonious
How has your identity as a black founder shaped your entrepreneurial journey?
Being a black entrepreneur has been nothing but a rollercoaster ride. I have definitely experienced racism in places that was unexpected, and achieved great heights in places that were truly unexpected. However, looking past being black for a second, I've experienced tremendous growth from within myself individually as now I see people as God sent vessels for my good. Also, I've experienced individuals that started off as, shall we say part-time participants, and have turned into strong full-on allies.
What do you love most about being a Packed with Purpose Impact Partner?
The thing I love most is the ability to learn from you. As I am growing my own non-profit, it is good to be able to have partners like you to share ideas with and help us grow and reach more people. Also, being a partner puts us in an elite group of companies that share PwPs values which shows and puts on display our unshakable integrity.
– Featured Gift –
Black-Owned Spotlight 
Celebrate Black History Month by sharing the products and stories of our Black-owned Impact Partners with your colleagues, friends and clients. Not only will you amplify brands like Symphony Potato Chips, but you will be supporting employment training and sustainable employment opportunities for youth in need.